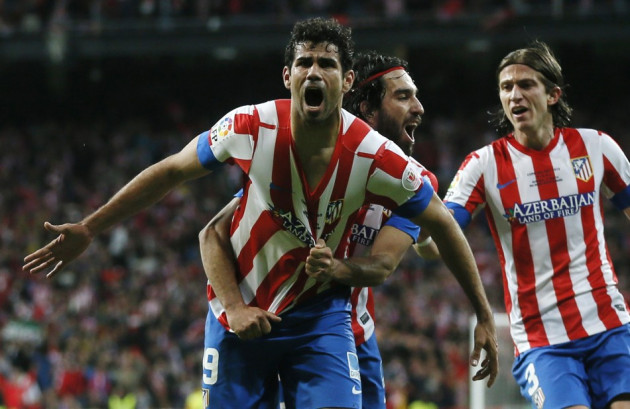 Arsenal manager Arsene Wenger has earmarked Atletico Madrid striker Diego Costa as the man Europe's elite should be wary of.
The Brazilian-born striker has been Europe's in form striker thus far this season with an incredible return of 10 goals in eight league appearances, a tally that already equals his haul from last season and has lifted him above Lionel Messi and Cristiano Ronaldo who are on eight and seven respectively.
The 24-year-old's relentless consistency in front of goal has helped Atletico Madrid maintain their perfect start to the La Liga season.
Diego Simeone's side are one of only three - the others being Barcelona and Roma - to maintain a 100 per cent start to the campaign in Europe's major five leagues, which includes a first league win over Real Madrid since 1999.
The striker's sublime start to the season has ensured Atletico fans have not missed the presence of Radamel Falcao, and Wenger cannot help by express his admiration for perhaps Europe's most in form player at the minute.
"For me, Atletico Madrid can be a surprise package: they can do the same as Borussia Dortmund did last year. Even if they have lost Falcao, they have a good defence and a very good goal keeper," Wenger wrote in his Eurosport blog.
"They have got really good midfield players and of course they have Diego Costa and this guy is an absolute animal. He would be able to score from anywhere."
It could have been a very different picture for Atletico had Costa joined Liverpool during the summer months. The Reds made an offer of £21m for the striker in August, a bid that was thought to be enough to trigger his release clause.
However the striker, who is embroiled in a standoff between the national teams of Spain and Brazil as La Roja await confirmation that Costa can play for them, signed a new deal at the Vicente Calderon weeks after to indicate where his priorties lie.