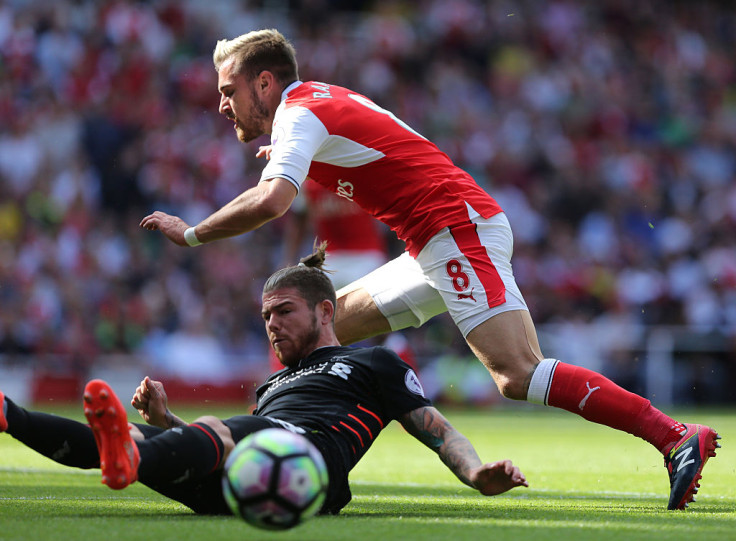 Aaron Ramsey and Olivier Giroud are out for Arsenal's home game against Swansea City, with Arsene Wenger claiming the duo need a "pre-season" to regain full fitness. Long-term absentee Carl Jenkinson is also unavailable, but Francis Coquelin and Mesut Ozil are both predicted to be ready for action.
Ramsey, 25, has been out of action since August, picking up a hamstring issue in the opening day defeat to Liverpool. Giroud, meanwhile, is yet to start a game for the Gunners this season, following his exertions with France during Euro 2016.
Ramsey returned to training earlier this week, but Wenger reports both he and Giroud need further fitness work before they can play first-team football. The Arsenal boss says Ramsey will not be ready for the Champions League midweek encounter with Ludogorets either.
"I am disappointed [Ramsey is not fit], he has worked very hard, he had a few little setbacks that forced us to be cautious. He is not far away now. He is on last stage to build up fitness, he is not far away," Wenger said in a press conference ahead of the visit of Swansea.
"Next week will come too early. It's a vicious circle, he had a little setback so we rest him so then that's takes longer it takes to build him up again. You have to create basically a new three weeks of preparation to get him to the level.
"We have decided that we will give him a complete pre-season now, even if he misses more games. Giroud will be the same because he has been out now, he has still not been on the pitches. I think he starts to have a jog again today for the first time so he has been interrupted a lot in his preparation. We have to build his fitness up again."
The game against Swansea will also come too early for Jenkinson. The right-back returned to training recently, following the cruciate ligament injury he suffered in January 2016 while on loan at West Ham United. However Wenger said he is progressing enough to play U23s against Southampton at Meadow Park on Friday.
"He will be playing on Friday night and after that it's down to getting a little bit more competition," Arsène Wenger said. "He has been out for a very long time but he's available again to compete now. It has been very tough for him because he had the knee and after, the shoulders. You think it's endless at that age, you need to be patient.
"He has been patient, resilient and he has a fantastic mentality – he has worked very hard to come back. He had the support of everybody here at the club and I think he has done extremely well."
Coquelin, meanwhile, suffered a knee injury during the 3-0 victory over Chelsea. However the Frenchman has taken advantage of the international break to step up his recovery in a bid to return to action against Swansea.
"Coquelin is back, available for Saturday," Wenger confirmed, before playing down any injury fears over Ozil.
The Germany international was substituted at half-time during Germany's 2-0 win over Northern Ireland on Tuesday night, sparking concerns over a potential injury. Yet, Ozil himself later allayed those fears and now Wenger has confirmed he expect him to be fully fit to play against Swansea.
"He told us he is completely fit," Wenger said. "We will see today if we have any bad news. I will see him later. I expect him to be available, especially after he played just one half [for Germany] so he shouldn't need to be rested on Saturday."