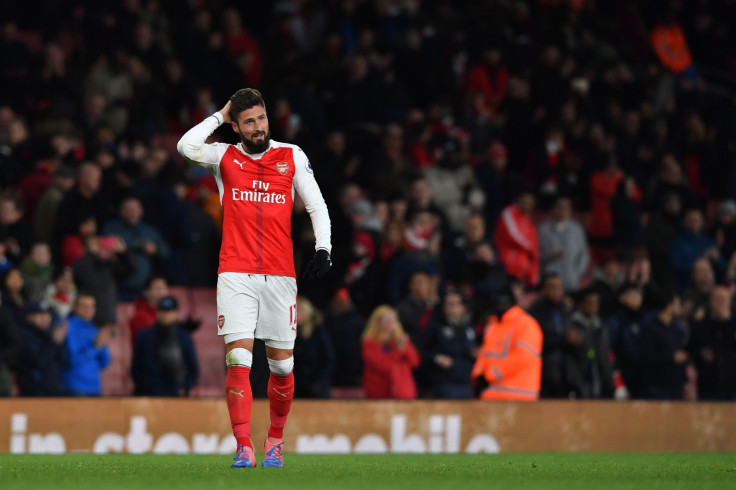 Arsenal striker Olivier Giroud will miss the EFL Cup visit of Southampton with a groin problem. The France international was missing from training after picking up a problem in the dying seconds of the 3-1 Premier League win over AFC Bournemouth and will subsequently sit out the game.
Fellow countryman Mathieu Debuchy is also missing after lasting just 16 minutes on his return to the Gunners team on Sunday [26 December]. The 31-year-old, who has not played for the north Londoners all season, picked up a hamstring injury in the first half and is now sidelined – making his future prospects at The Emirates Stadium bleak.
Carl Jenkinson will continue his return from a knee injury by making his fifth Arsenal appearance of the season for the visit of Saints. The 24-year-old played in the last round against Reading and feature in the absence of Debuchy and Hector Bellerin, who is nursing an ankle injury.
"Mathieu Debuchy is out [hamstring] and Olivier Giroud [groin] has a slight problem – he's out for tomorrow," Arsenal manager Arsene Wenger said in a media briefing disrupted by the club. "Mathieu has a scan today, so we don't have the full results yet. Lucas is in the squad for Wednesday's match. We will have a mixture of youth and experience, but still 90% of a first-team squad.
"Carl Jenkinson will play. I rested him completely against Bournemouth because he played two big games and I felt he needed a breather. Sometimes, mentally three games in a week demands a lot. Carl's back in tomorrow and we'll put Gabriel in the centre, and then we will see for Saturday.
"You forget that it's a big ask. Carl is very conscientious and it takes him time to play completely with freedom. He needs a run of games to play with freedom, so the fact that he can get another game tomorrow, I think we'll already see a different Carl."
Victory over Bournemouth ended a run of three successive draws against Tottenham Hotspur, Manchester United and Paris Saint-Germain, and ensured Arsenal kept pace with leaders Chelsea at the top of the Premier League. Wenger admits the victory lifted some tension around the club, who remain unbeaten since the opening day of the season.
"I felt so, because we were in a winning momentum and suddenly you only make draws, so it gets a little bit in the head of the players," he added. "For us, I think it was an important step to win against Bournemouth, and having watched the game again, I think we played better than I thought after the game."