Arsenal midfielder Emmanuel Frimpong has great faith in the club's young stars, claiming that Thomas Eisfeld and Kristoffer Olsson in particular have shown that they have very bright futures under Arsene Wenger.
Eisfeld and Olsson are amongst a host of players in the Gunners Under 21 side who have been on the border of getting a mention for the senior squad.
And while Frimpong has been playing alongside the Arsenal starlets as he continues to recover from injury, he admitted the pair caught both his and Wilshere's eyes on the pitch.
"I really like Thomas Eisfeld," he told the Arsenal website. "I've hardly ever played with him before because I have been injured, but he looks really good.
"I also really like Kristoffer Olsson as well. When I played with them against Everton, after the game me and Jack [Wilshere] said to each other, 'Wow, they are really good'.
"The things that they do, you would think they'd already been playing for years. That's very exciting for Arsenal. Hopefully we will see these players [coming through] over the next year or so."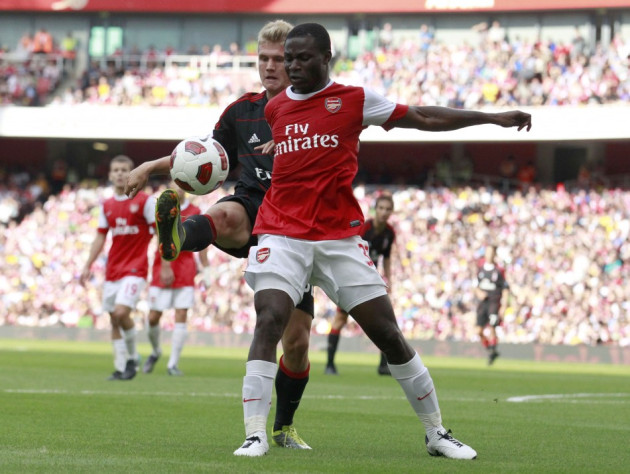 Frimpong made his comeback to the first team in Arsenal's Capital One Cup match-up with Coventry, which the Gunners eventually won 6-1 to put them on a confidence high.
And the 20 year old, who has spent his entire career at the north London club, said it couldn't have been a better match to get first team experience again.
"It felt amazing, I felt it was the right game to come back in," he said. "We were cruising at the time, I think we were 3-0 up, so it was a comfortable game for me to be involved in.
"I thought the team did really well, we had a very young team at the back. We had the likes of Martin Angha and Iggy [Miquel] playing but they did really well.
"Serge [Gnabry] came on and did his thing, he is really doing well at the moment, and I thought the guys did well because the first half wasn't that great, but in the second half we really pushed on."
And after being a part of the Gunners' sensational comeback against Reading last night, Frimpong will be pushing to prove himself in a league game.