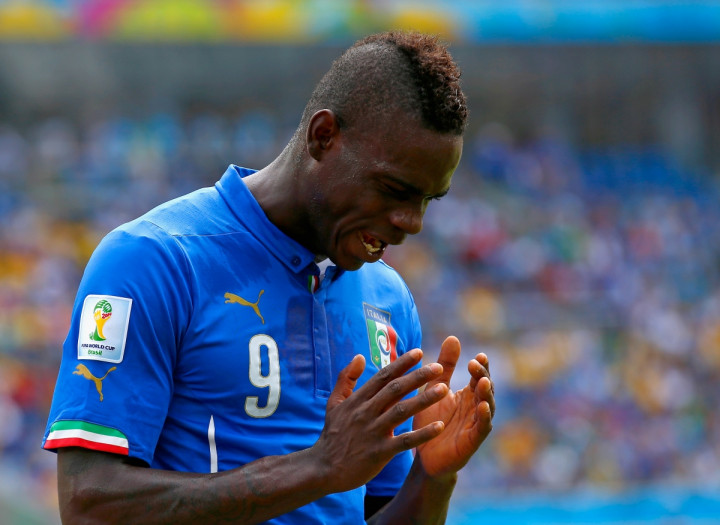 Arsenal target Mario Balotelli will consider a move away from Milan his summer following Italy's disappointing World Cup campaign, his agent has indicated.
The Azzurri's campaign in Brazil ended at the group stages after suffering a 1-0 defeat to Uruguay in their decisive final game which prompted manager Cesare Prandelli to hand in his resignation.
In the aftermath of their elimination, Prandelli highlighted Balotelli's inclusion as a "mistake", comments which have worked to create further uncertainty over his future role at international level and for the Rossoneri.
While Milan vice-president Adriano Galliani has defended the 23-year-old's performance another vice-president Barbara Berlusconi recently fuelled speculation regarding his departure by insisting the former Manchester City striker was "replaceable."
With Arsene Wenger reportedly keen to bring the Italian international back to the Premier League, his agent Mino Raiola has revealed the extent of his client's current mood.
"Mario is sad, desperate," Raiola told Gazzetta dello Sport, the Guardian report. "Only Galliani has defended him while the FIGC (Italy's football federation) remain absolutely silent. I appreciate Galliani's comments but now I want to respond to Barbara Berlusconi.
"If, for her, Mario is replaceable, she should set up the meeting in the club's headquarters and we will find a solution, just as I am used to doing. I remember that Mario had other important offers. He is at Milan because of his heart."
With Chelsea, Liverpool, Manchester United and Manchester City all having made moves in the transfer market already, Arsene Wenger will be expected to follow suit in order to avoid the mistakes that have marred the club's previous transfer windows.
The club are widely expected to bring an established centre forward to the Emirates to compete with Olivier Giroud in order to help bridge the gap between them and the sides who finished ahead of them last season and Balotelli could be considered for that role.
And Raiola recently suggested Arsenal are one of the 10 clubs in world football who can afford to bring the striker back to England.
"Arsenal is a fantastic club in London," Raiola said in a statement released by Sky Sports. "Will a transfer happen? Anything is possible.
"Only 10 clubs in the world maximum could afford Mario – like all premium players and he is one of the greatest. I won't make any further comment until after the transfer window closes."