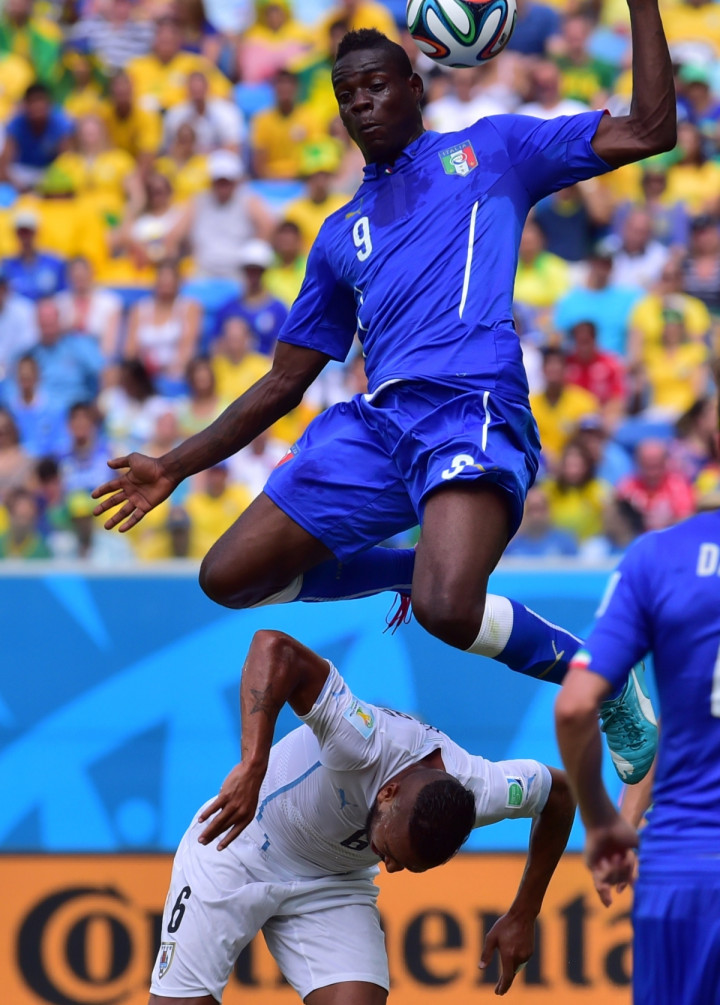 Italy striker Mario Balotelli has posted a furious rant on Instagram against his critics after the Azzurri's shocking exit from the World Cup.
Disappointed supporters have flooded social media with insults, negative and ironic comments and memes directed at the former Manchester City player, whose poor performance is believed to have contributed to Italy's loss to Uruguay.
"Shame on you", "Buffoon" and "Why don't you halve your salary" were just a few of the comments launched against the 23-year-old, who was given a yellow card after clumsily jumping over Uruguay player Alvaro Pereira. He picked up a one-match suspension for earning his second yellow card and was substituted in the second half by coach Cesare Prandelli.
However, Super Mario did not take the racist comments lightly, claiming that he is more African than Italian and hitting back with an Instagram post.
"Mario Balotelli has a clear conscience and is ready to go forward head-on and stronger than before. Proud to have given everything for his country," he wrote.
"Or maybe, as you say, I'm not Italian. The Africans would never dump their 'brother'. NEVER."
"In this we negroes - as you call us - are light years ahead. SHAME is not someone who misses a goal or runs less or more. SHAMEFUL ARE THESE THINGS. Real Italians! Right?" he concluded.
The rant is accompanied with a video featuring an Italian supporter lashing out at Balotelli with the words "Mario, the issue here is that you're not really Italian. Withdraw [from the Italy team]"
"I'm Mario Balotelli. I'm 23 years old and I didn't choose to be Italian," Balotelli wrote. "I strongly wanted (to be Italian) because I was born in Italy and have always lived in ITALY."
Balotelli was born in Sicily to Ghanaian parents who had migrated to Italy just two years earlier. He was brought up by foster parents and did not acquire Italian citizenship until he was 18 due to Italy's anachronistic laws.
"I was really motivated for this World Cup and I'm sad, angry and disappointed with myself," Balotelli added in Italian. "Sure, maybe I could have scored against Costa Rica. You're right but so what?"
Since his professional debut in 2006, Balotelli has been routinely subjected to racism, with bigoted chants against him becoming increasingly frequent in Italian football stadia. The volatile player was targeted by Juventus and Roma fans while playing for Inter Milan in 2009. While playing for the Italy under-21 team in Rome, some people even threw bananas at him.
In 2013, former Italian prime minister Silvio Berlusconi's younger brother Paolo called Balotelli "our household's little negro" at an electoral campaign meeting.