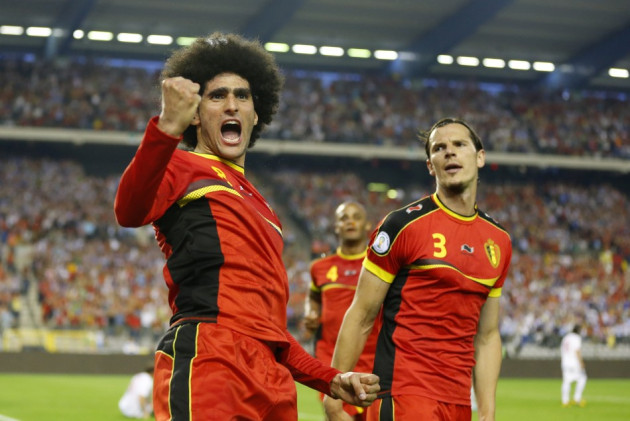 Arsenal will have just over a month to complete a deal for Everton midfielder Marouane Fellaini if they want to activate his release clause and sign him for £23.5m.
The Belgium international has been heavily linked with a possible move to the Emirates, with reports suggesting he was seen as the perfect midfielder to help add some much needed steel to the Arsenal midfield.
Fellaini was consistently mentioned at the start of the summer but in recent weeks it has been a string of strikers who have been linked with a move to Arsenal.
First it was Real Madrid's Gonzalo Higuain and now the Gunners are believed to be considering another offer for Liverpool star Luis Suarez after their initial 30m bid was rejected.
Arsenal boss Arsene Wenger has clearly made it his priority to strengthen his attacking options, having already signed French youngster Yaya Sanogo and submitted an official offer for Suarez.
However, the longer it takes to sign a forward the less likely it becomes that Arsenal will be able to complete a deal for Fellaini before his release clause expires on August 15 and his fee dramatically rises.
The Evening Standard reports that Fellaini considered a switch to Arsenal his dream move but he is now concerned that it will not happen.
Wenger is believed to have a transfer fund of around £70m this summer but a large majority will be used on signing a striker and Fellaini fears he will not be seen as a priority signing.
Should the north London club manage to complete a deal for Suarez or Higuain in the coming weeks then there would still be chance that they could triggers Fellain's release clause, thus giving Everton very little chance of hanging on to the Belgium international.
Russian outfit Zenit St. Petersburg are also believed to be keen to sign the 25 year old but Fellaini would prefer to remain in the Premier League, and is reportedly happy to continue at Everton under Roberto Martinez if there is no offer from Arsenal.