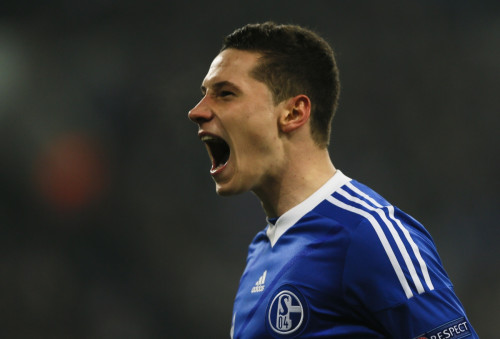 Arsenal face a two-year wait to sign Schalke playmaker Julian Draxler after missing out on the German international in the January transfer window, with club chairman Clemens Tonnies optimistic of keeping their prized asset beyond the end of the season.
The 20 year old was heavily linked with a move to the Gunners in January but the two clubs were unable to agree on a fee, with Schalke holding out for Draxler's €37m release clause.
Arsene Wenger is expected to launch a second bid to sign Draxler in the summer transfer window after only adding Swedish midfielder Kim Kallstrom to his squad in January, with Arsenal in desperate need of an accomplice to the overworked Olivier Giroud.
But Arsenal, who are top of the Premier League by two points ahead of Manchester City and Chelsea, have been warned they face a possible two-year wait to land Draxler though the Bundesliga club are consigned to eventually losing him.
"It would do Draxler good to spend another year or two with us," said Tonnies at the SpoBiS exhibition. "But we know we're not going to be able to keep a super-talented player like Julian at Schalke forever.
"If another club comes in for him, then we cannot block them. That would be unfair. I don't think he wants to join Bayern Munich, though."
Schalke's stable financial position means they are under no pressure to sell Draxler in the near future and should the club persuade the Germany midfielder into agreeing an extension to his current contract which expires in 2015, the club could even increase his buyout clause.
Jens Keller's side are on course to qualify for the Champions League this season and though Bayern Munich are the runaway leaders domestically, regularly top tier European football is an extra carrot for Draxler to remain in his homeland after the 2014 World Cup finals in Brazil.
Draxler has scored one goal and made four assists in 14 league appearances this season but reports suggest that Arsenal would convert the youngster into a forward in the same way Wenger moved Robin van Persie from a wide role.
Though Giroud remains on the only front-line striker at Arsenal the Frenchman has shown signs on tiring in recent weeks having led the attack for much of the season, scoring 10 goals and making six assists in 22 league starts.