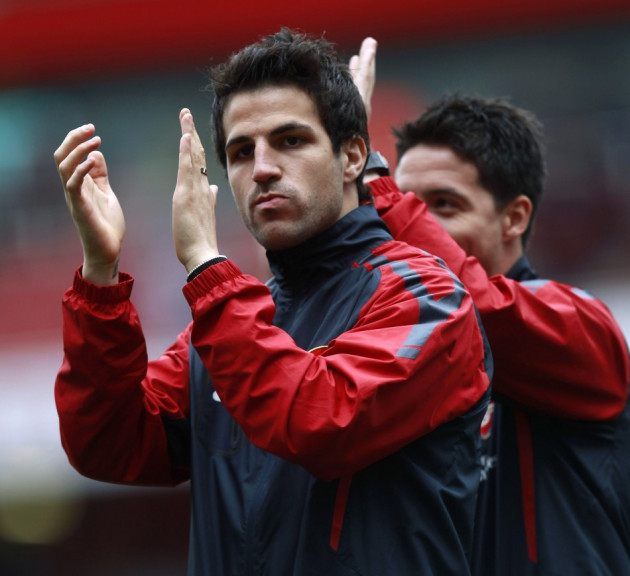 Cesc Fabregas has arrived in Barcelona for a medical ahead of his £35m move, after Arsenal reached an agreement with the European champions over the sale of their captain.
A deal was expected to be announced on Friday, after reports suggested a fee had been agreed between the two sides, but it was not until late on Sunday that an "agreement in principle" had been finalised.
"It is not €40 million," Barcelona president Sandro Rosell said on Sunday. "Barca will pay €29 million and we are very happy, because we said we would not pay more than 30 and we succeeded. On top of that, the variables are €5 million plus five others, but that will be discussed in more detail tomorrow.
"This soap opera has gone on for several years. Tomorrow, the contracts will be signed and we will welcome him as one of us."
Arsenal manager Arsene Wenger confirmed Fabregas' exit on Sunday, telling the club's Web site:
"We have been clear that we didn't want Cesc to leave and that remains the case.
"However, we understand Cesc's desire to move to his home town club and have now accepted an offer from Barcelona. We thank Cesc for his contribution at Arsenal and wish him future success."
The midfielder, who joined Arsenal from Barcelona as a 16-year-old in 2003, travelled to Barcelona this morning to agree personal terms and undergo a medical at the club's training ground.
The agreement brings to an end one of the most high-profile transfer sagas of recent seasons. The midfielder told Wenger last summer that he wanted to return to Barcelona but the Frenchman refused to sanction a deal at the time. However, just 12 months later, Wenger's stance relented after the European champions met Arsenal's valuation. Fabregas, who made 308 appearances for Arsenal, scoring 57 goals, will wear the No.4 shirt for Barcelona.
Wenger, meanwhile, will be under even greater pressure to spend the proceeds of the Fabregas sale - with Samir Nasri's imminent move to Manchester City likely to bolster the manager's funds.
The Frenchman's priority remains a new centre-back, with a second bid for Everton's Phil Jagielka expected this week.
Blackburn's Chris Samba remains a potential target but a move for England international Gary Cahill appears unlikely, with the club reluctant to meet Bolton's £18m valuation of the player.
The north London side continue to be linked with Shaktar Donetsk midfielder Jadson and Valencia's Juan Mata, but Wenger has admitted Arsenal are unlikely to pursue either target.
Weekend reports suggested the club were close to a deal for Jadson, especially when the player recently claimed there should be "some news for everyone at the start of next week".
However, Wenger quashed speculation linking the £12m-rated player with the Emirates.
"We are nowhere near on Jadson," Wenger told reporters. "We are not talking to Shaktar about him," he added.
Valencia's Juan Mata has also been linked with the north London side but Wenger confirmed the Spain international will not be joining the club, after the club failed to meet the Spanish side's £18m release clause for the winger.
"We will not do [a deal for] Juan Mata," Wenger said. "I don't have to give a reason. We will not do it."
Arsenal have already brought in Gervinho, Alex Oxlade-Chamberlain and Carl Jenkinson this summer, but Wenger suggested the club were unlikely to bring in a marquee signing before the end of August.
"We have two markets: one is internal and one is external. Internal is the young players that we have - players who are inside the club are very important.
"Externally, if I'm convinced a player brings some extra qualities to the squad, we will always buy him - maybe even overpay a little bit - but to pay three or four times the price, you must really be convinced that this is the player you need. At the moment, we have not found that player."
Meanwhile, in the wake of Joey Barton's altercations with Alex Song and Gervinho on Saturday, Wenger has lauded the Newcastle midfielder for his "courage" and suggested the 29-year-old could be "a great player".
"I like the courage of the player," Wenger said in The Guardian. "Nobody dismisses signing Joey Barton but I don't think we envisage doing that at the moment. He's a good player. Sometimes there's trouble with his temper but he's a great player."
"Maybe the way to sort Barton out is to sign him. Maybe that's the solution," he added, tongue firmly in cheek.