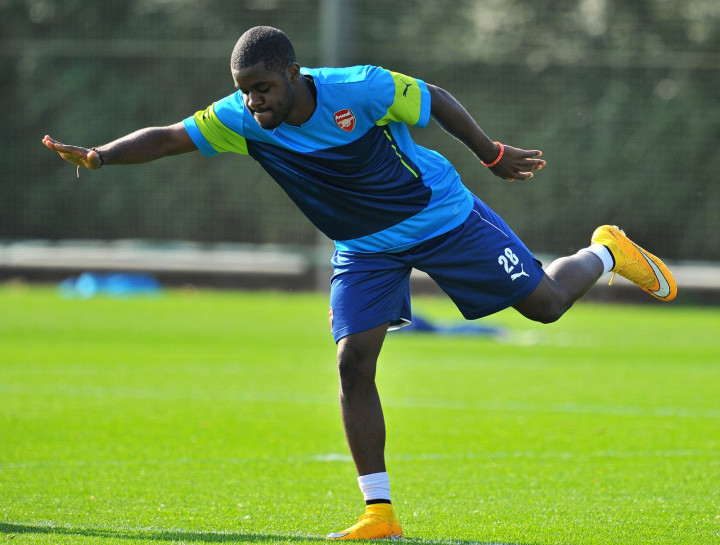 Arsenal youngster Joel Campbell will remain at the club beyond the January transfer window after the player's agent denied Inter Milan are interested in signing the Costa Rica international in the new year.
Campbell has endured a frustrating season thus far, making just a single start following a string of impressive performances during the World Cup finals, which were expected to pave the way for added influence in the first team.
The 22-year-old saw Arsenal sign Danny Welbeck on transfer deadline day from Manchester United to push him further down the pecking order at the Emirates Stadium, but after reports emerged about Inter's interest in Campbell, the player's agent has denied he could leave north London.
"Joel is an Arsenal player, there's nothing else I can say at the moment," representative Ruggero Lacerenza said. "The Gunners are happy with him and there is no problem.
"They are a great club and the player is proud to play there. Inter's interest? I repeat, he is an Arsenal player and we are happy. All the rest are just rumours."
Campbell scored against Uruguay in the World Cup group stage as Costa Rica reached the last 16 in Brazil, and produced a string of impressive showings. However, since making his debut against Manchester City in the Community Shield, he has been overlooked throughout the campaign, making just a single start in the League Cup loss to Southampton and a 17-minute cameo appearance against Everton in the Premier League.
Arsenal's intention to keep Campbell beyond the January window increases speculation regarding the future of Lukas Podolski, who has made just five appearances since the summer.
The German international is yet to make start in the Premier League this season, playing a combined 48 minutes in brief appearances against Leicester City, Aston Villa and Chelsea to fuel speculation regarding his future.
Inter have also been linked with a move for Podolski, but Gunners boss Arsene Wenger is hopeful the 29-year-old will remain with the Premier League club.
"It is quite simple, there is no transfer market at the moment," he said. "When there is no transfer market, you are all on board – or not on board. It is like that.
"This is a job where you can only be successful if you're fully committed. You cannot be half in and half out, so all this transfer speculation is not considered at all.
"We are all on board to get results, and Podolski will be part of that."