Joel Campbell has told Arsene Wenger he is ready to thrive at Arsenal – even though some reports suggest the boss may consider signing a new striker, following Olivier Giroud's recent injury.
Giroud picked an injury during Arsenal's 2-2 draw at Everton. According to some reports, the French star could be absent from two weeks to three months.
Wenger has insisted a number of times during the season he is not expecting further additions in his squad's attack positions, but should Giroud be out for a long time, reports claimed Wenger may reconsider his plans.
Nevertheless, the boss may decide to make up for Giroud's absence with his current players, as all Yaya Sanogo, Alexis Sanchez, Lukas Podolski and Campbell can play up front.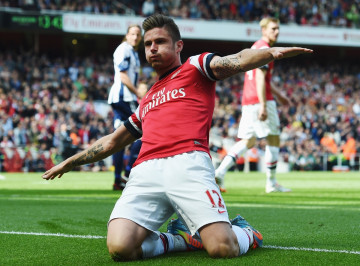 In this sense, Campbell says he is ready to face the big challenge, after developing during three seasons away from the club on loan.
"I am very happy to be here. It has been three years on loan at different clubs, but finally now I can settle in here. I want to prove what I am capable of," he said to Arsenal official website.
Emirates return
The 22 year-old returned to the Emirates stadium this summer after becoming one of the sensations of the World Cup, leading Costa Rica to the quarter-final.
"Thank God I performed well with my national team at the World Cup – the fans could see what I am capable of. Now it's time for me to prove my qualities. I have to work hard during training and make the most of any single opportunity the manager may give me," he said.
"The Premier League is different to the leagues I've played in. It's a very physical competition where the ball goes very quickly from one box to the other, but at the same time I am part of a team that puts a passing game into practice. Arsenal has great players and the kind of football we play suits my style.
"I'm at a very competitive club with many top-class players in the squad. You have to work really hard even to stay on the bench, let alone to get a spot in the line up."