Arsenal: Francis Coquelin could return for Olympiacos clash as Flamini suffers hamstring injury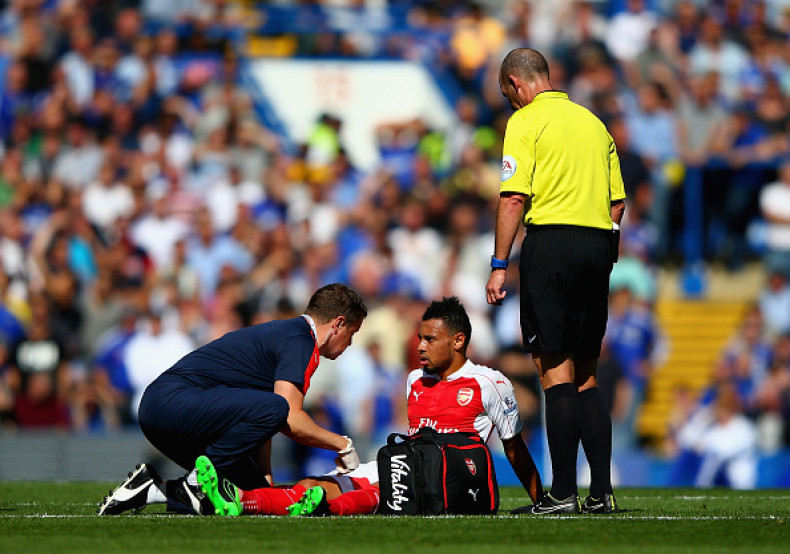 The Arsenal manager has given positive news on Francis Coquelin's injury and believes that the midfielder could be available for the Gunners' Champions League clash against Olympiacos on Tuesday (29 September) night. But the 12-time FA Cup champions will be without Mathieu Flamini, who injured his hamstring in the first-half of their game against Leicester City on Saturday, 26 September, which they eventually won 5-2 after a stunning hat-trick from Alexis Sanchez.
"Coquelin could be available for Tuesday. Today we lost Mathieu Flamini and the only one that could come back is Coquelin and Gabriel is not suspended," Wenger is quoted as saying on Arsenal's official site.
The French midfielder [Coquelin] missed Arsenal's win over Tottenham Hotspur in the Capital One Cup on Wednesday, 23 September, and also their clash against Leicester City. His involvement on Tuesday in the Champions League will be crucial as Arsenal are hosting Manchester United in the Premier League on Sunday, 4 October. It was the first time Coquelin missed a game since breaking into the first-team last December.
The 24-year-old midfielder's return to full fitness will ease the pain after Flamini's loss, especially after the former AC Milan midfielder's man-of-the-match performance against Spurs in the Capital One Cup on Wednesday night. He is likely to be out for three weeks, which is the usual for a hamstring injury.
Meanwhile, Wenger has praised Mesut Ozil after his brilliant assist led to Alexis Sanchez's second goal, but is disappointed that the German midfielder could not make better use of the chances that came his way to score his first goal of the season.
"It was classy and the little frustration I have today is that he could not score a goal or the chance he had. He is really upset because he knows he needs a goal as well but the ball he gave to Alexis was fantastic," the French manager added.