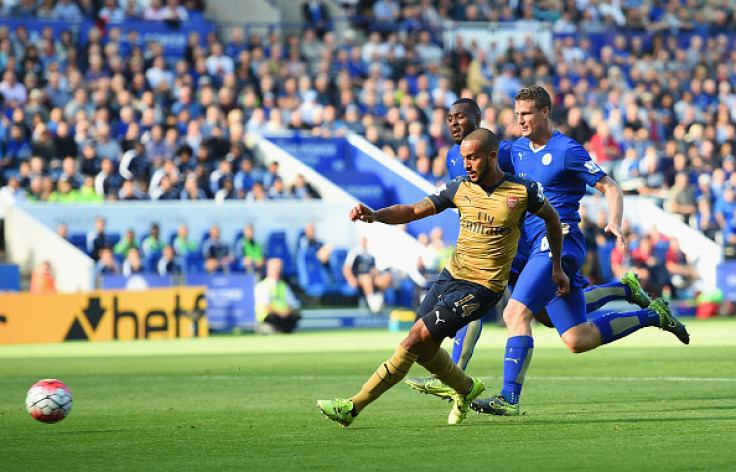 Arsenal forward Theo Walcott believes his performance against Leicester City was his best since returning from injury. The 26-year-old was out for over a year after rupturing his cruciate ligament against Tottenham in a FA Cup third round game in 2014.
Walcott has been used as a centre-forward by Arsene Wenger this season, with Olivier Giroud being relegated to the bench. The England international has started the season well, scoring two goals in the league thus far and was influential in getting Arsenal three crucial points against Leicester.
Walcott scored the opener to equalise for the Gunners after Jamie Vardy had scored at the other end. Alexis Sanchez hit a hattrick to get back to his goalscoring ways while Giroud, used more as an impact sub, came on to put the nail in the coffin with Arsenal's fifth.
The forward believes that this performance will give him some much-needed confidence going into the season and is hopeful that he can return the faith the manager has reposed in him.
"It will be up there since the knee injury and, before that, the Tottenham game. I have always said I want to play up front. When I get the opportunity I can improve and learn the position a little more. The manager has had faith in me and I just want to repay him," Walcott told Arsenal's official website when asked if it was his best performance in recent memory.
"We just continued to just play our game. We knew we'd create chances on the counter attack. We knew they would come for us, especially as they were at home. We were patient and it was important that we did not panic. We got that [equalising] goal to get back into the game. After that we played with a lot of freedom and we took all our chances," he added.
The Gunners will face Manchester United in their next league game at the Emirates but have to contend with a visit from Olympiacos in midweek for the Champions League.