Manchester United: Louis van Gaal discusses Anthony Martial, goal scorers and Arsenal following Sunderland win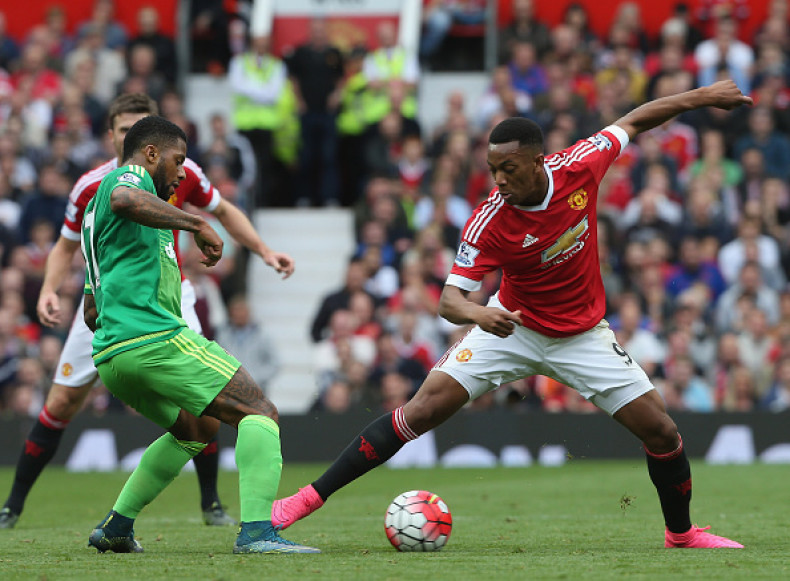 Manchester United manager Louis van Gaal has admitted surprise at striker Anthony Martial's performance during their 3-0 win over Sunderland on Saturday, 26 September. The Dutch manager was pleased to see that the Frenchman can not only score goals, but also set up goals for his fellow forwards, after he assisted Wayne Rooney for the Red Devils' second goal just after half-time.
The 19-year-old striker has made a splendid start to his Old Trafford career, scoring four goals in as many games, and has won high praise from the former Bayern Munich manager. Martial was signed for a reported £36m ($54.8m) fee from AS Monaco, and has been dubbed the 'new Thierry Henry'.
"I am very pleased with the performance of Anthony because he is not only a goalscorer, he is also an attacking point and he also prepares goals. So for us he is more important than I thought before he came," Van Gaal told United's official site.
However, Van Gaal has made it clear that he does not worry about who scores the goal, as long as his team score one more than the opponent. Rooney and Memphis put the game beyond Sunderland with goals within one minute either side of the first-half. The manager also spoke of the 20-time English champions' visit to the Emirates Stadium next Sunday (4 October) to face Arsenal, and is hoping to replicate last season's performance, which saw them come away with all three points.
"I am pleased for them but for me it does not make any difference because for me we have to make goals as a team. Who makes them is not so important. You have to beat your opponents and when you make one more goal than the opponents, you are the winner. That is the game.
"Yes, not only for the Champions League but to maintain our top position in the league because we have to play Arsenal away, it's the most difficult game but last year we won there so we have hope," the Dutch manager explained.