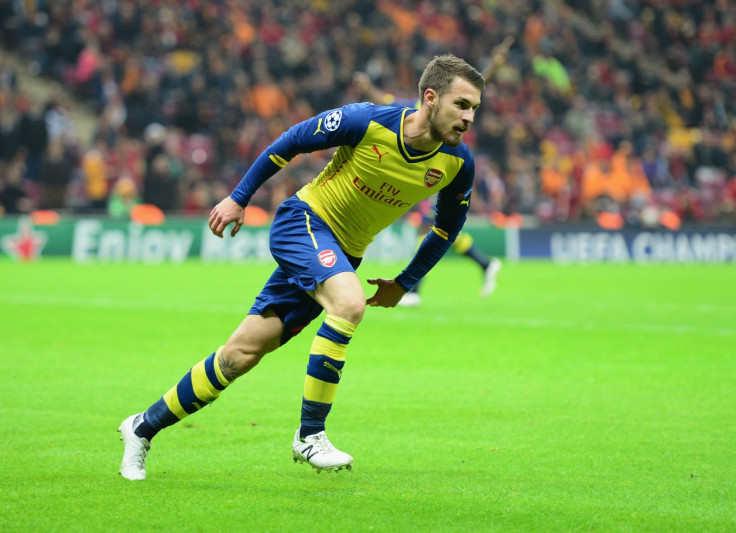 Arsenal manager Arsene Wenger has admitted that it is worrying to see midfielder Aaron Ramsey suffer a recurrence of hamstring injuries this season.
The Welshman pulled up with a hamstring injury just ten minutes after being brought on against Leicester City on Tuesday night, and the Gunners boss fears that the midfielder faces yet another spell on the sidelines. This is the third hamstring injury he has suffered over the course of the ongoing season.
The French manager is aware of the problem and has insisted that he is not taking the situation lightly as he understands that every injury suffered holds a player back from playing with total freedom.
"Yes. Last year was a thigh but this year it's a recurrence of hamstrings. You cannot say it's no worry because after the player doesn't play with the freedom in mind," Wenger said, as quoted on Arsenal's official site.
Ramsey had a phenomenal year last season for Arsenal; he helped the club win the FA Cup and was voted Player of the Season by the fans, but he did suffer a thigh injury midway through the season, although he recovered and continued his rich vein of form.
However, this year has seen him struggle to match his form of the previous campaign and he has encountered far more injury problems as well. This has prompted the manager to use him sparingly even when he is fit.
"He's not overplayed. Before I never looked at him, I just played him in every game but since he's had these problems I'm a bit more cautious with him," the 65-year-old manager explained.
But the Frenchman has dismissed concerns regarding the number of injuries suffered by his players, as he feels that joint injuries are hard to avoid as they are caused by tackles received during games. However, the muscle injuries suffered by his players worry the Arsenal manager more.
"No because for example Arteta has an ankle problem, Debuchy and Wilshere had an ankle problem and they are injuries you cannot do anything about. The only thing you can worry about are the muscular injuries."
"Arteta and Wilshere and Walcott were joint injuries - you cannot do anything about that. When you get tackles like we get, sometimes when the players are a bit tired it's difficult to get out of it," Wenger concluded.