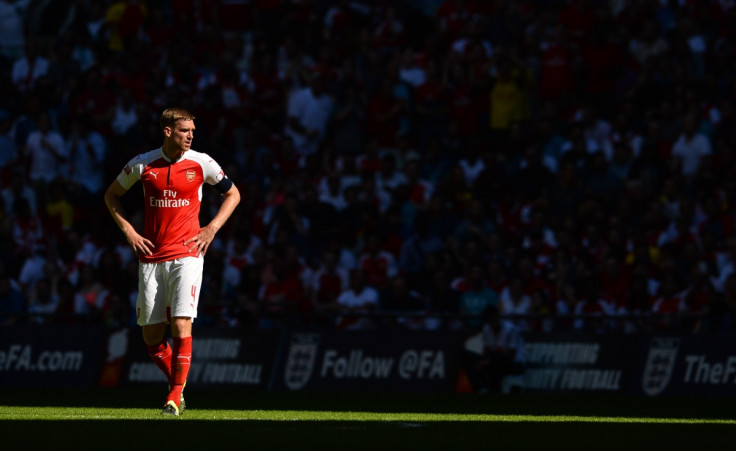 Arsene Wenger has confirmed Per Mertesacker is ready to return to action for the Capital One Cup trip to Sheffield Wednesday on 27 October after the vice-captain missed the win over Everton due to an illness. He also confirmed that Petr Cech will stay between the sticks as second-choice goalie David Ospina remains sidelined, along with Aaron Ramsey, Mikel Arteta, David Ospina, Jack Wilshere, Thomas Rosicky and Danny Welbeck.
The Gunners visit Hillsborough for the fourth round of the League Cup on the back of four consecutive victories in all competitions. Wenger revealed following the weekend's 2-1 victory over Everton that he was looking to rest players against the Championship outfit, having recently lost both Ramsey and Arteta to injuries.
"It is a perfect week and it is not easy to have that. The only negative is that we lost some players through injury during the week, but I will have to rest some players Tuesday night against Sheffield Wednesday. I think for some players it will be one game too many," Wenger said in a press conference after the Everton game.
Players like Alexis Sanchez and Mesut Ozil are expected to be rested prior to two crucial away games to Swansea City and Bayern Munich, but Wenger confirmed Cech will retain his goalkeeper place as Ospina is stuck on the treatment table.
"Ospina is still out too, so Cech will certainly play," Wenger said to the club's official website.
The French boss also revealed that Mertesacker is available, following Gabriel Paulista taking his spot in the heart of defence at the weekend.
"There are no new problems from Saturday, Per Mertesacker is available again after illness," he said. "Nobody else is coming back. Arteta will not be fit. Ramsey, Wilshere, Welbeck and Rosicky of course are all out too."