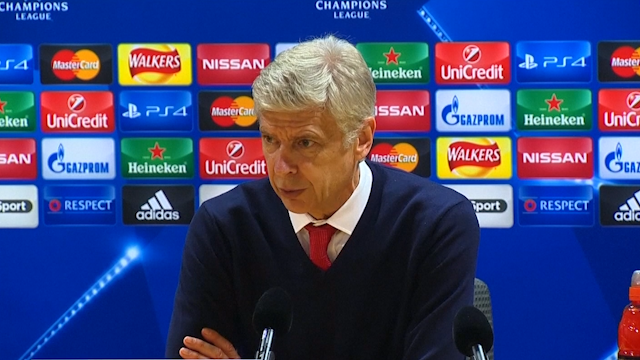 Arsenal manager Arsene Wenger has expressed his happiness after the Gunners climbed to the top of the Premier League after beating Everton 2-1 on Saturday (24 October) just days after their impressive Champions League victory over Bayern Munich. Having also beat Watford the previous weekend, the French boss says it has been a "perfect week" only overshadowed by the injuries of Aaron Ramsey and Mikel Arteta.
The Wales midfielder suffered a recurrence of his hamstring problems during the Champions League game while the Captain sustained an injury on his ankle during a training session ahead of the game against Everton – joining David Ospina, Jack Wilshere, Thomas Rosicky and Danny Welbeck on the treatment table.
Wenger therefore made three changes to the side who beat Bayern on Tuesday night, with Gabriel Paulista replacing Per Mertesacker, Olivier Giroud taking the number nine role instead of Theo Walcott, while Alex Oxlade-Chamberlain covered Aaron Ramsey's place. And his side responded with its fourth consecutive victory thanks to two headers from Giroud himself and Laurent Koscielny.
"It is a perfect week and it is not easy to have that. The only negative is that we lost some players through injury during the week, but I will have to rest some players Tuesday night against Sheffield. I think for some players it will be one game too many for them," Wenger admitted.
"We had a massive game on Tuesday night and after that it is a good test for your squad and the hand off to your players. I think we played with the right focus and desire. We were a bit unfortunate in the first half - we got caught with one minute to go so it was 2-1 and created a bit of insecurity in the squad.
"In the second half we continued to dominate but could not get the third goal and then we were a bit exposed on the counter-attack once or twice. Romelu Lukaku had the header on the bar and Petr Cech made a great save with very little time to go and that got us three massive points."
The manager played down the fact they are now the leading the Premier League as it is still to soon to think about winning the title. "We need to keep the togetherness, the concentration, the humility and try to play better football game by game and try to focus on that in training as well."
But asked whether he expected to be top of the Premier League after 10 games considering their start to the season with a home defeat against West Ham, he said: "I thought after 10 games, no. Honestly. I thought it would take much longer because Manchester City started with five wins so it was difficult to envisage that we would come back but we had no choice.
"Last season after 10 games there was a big difference between the top teams and us, today no. Let's continue to work together and continue to improve. There are still many aspects to our game which we can improve and therefore let's not focus too much on the position and try to be a better team."
"It is 24 hours, but we still don't know. After the first game against West Ham United nobody would have predicted that. That shows that we rely on our attitude, our togetherness and our desire to do well. After 10 games we are there, that shows we have made some ground up. Let's keep our togetherness and fight for the future games, that is all we can do. It is very early in the season but we are happy to be where we are," he said.