Arsenal striker Chuba Akpom is confident that the Under-18 side is good enough to win the FA Youth Cup this season as the side look to emulate the class of 2009 that was inspired by Jack WIlshere.
The England midfielder was one of the standout performers in the FA Youth Cup four years ago and quickly began to force his way into the first team plans of manager Arsene Wenger.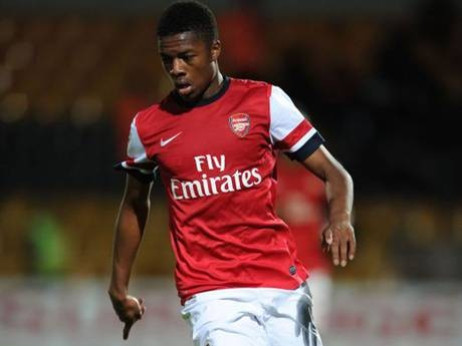 Wilshere is now considered one of the most influential players at the club and Akpom is confident that the current side will be able to challenge for the trophy come the end of the season.
"We want to go all the way," Akpom told the Evening Standard. "Last season was terrible [against Derby]. I only played a few minutes, but coming off the pitch, I felt like I'd been on for the whole game. I was so distraught.
"It's good to get past the first game. Now we want to go all the way and be like Jack Wilshere's team [in 2009]. I think we're good enough to do it."
Wilshere actually scored in the first leg of the 2009 final against Liverpool and was one of a number of players to force their way into the plans of Arsene Wenger.
Emmanuel Frimpong and Francis Coquelin also played in the final, while the likes of Jay Emmanuel-Thomas, Henri Lansbury and Kyle Bartley all went on to make first team appearances for the Gunners.
Akpom is one of the stars of the current youth team and at just 17-years-old has been earmarked as a player that has a very bright future at the club.
Wenger recently spoke in glowing terms about the young striker, saying: "He has personality [and] he has quality. I wanted him to be with the first team, taste what it is [to be involved] in a Champions League game, and hopefully he will join us very quickly. It could happen very soon."