Arsenal: Jack Wilshere has the potential to be one of world's best says Barcelona legend Xavi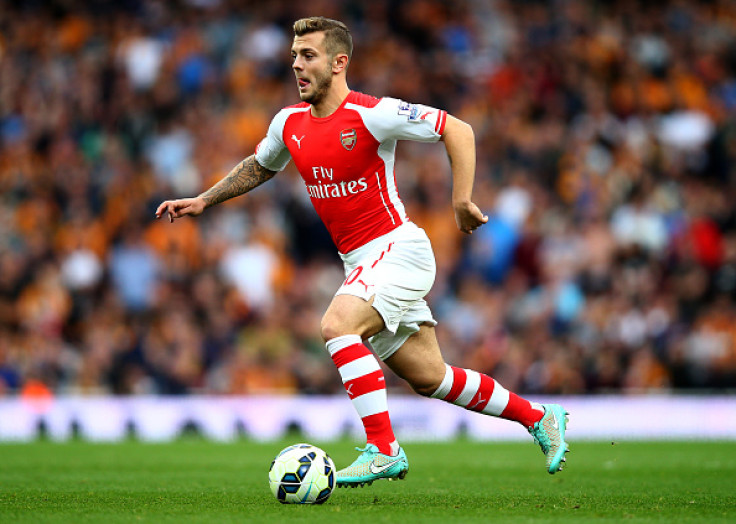 Barcelona legend Xavi Hernandez believes Jack Wilshere has the potential to become one of the best midfielders in the history of the game if he can keep himself fit. He says the Arsenal youngster does not play like other English midfielders do and has a brilliant passing range which differentiates him from the rest.
The 23-year-old is out with a broken foot since pre-season and is expected to be back in training next month, before taking the field in January. The midfielder has missed a major part of the last few seasons through injury but Xavi, who has played against the youngster in a Champions League fixture in 2011, believes he can still realise his potential and take Arsenal to greater heights.
"If he had a career that had been injury-free we would already be talking about him as one of the top central midfield players in Europe," said Xavi, as quoted by the Mirror. "I have played against him, I have watched him carefully, and if he can overcome injuries, then he can still go on and be one of the best midfield players in the world. With all respect, he doesn't play the English way.
"He has an excellent passing range, an ability not to lose the ball, it is clear that he has had his education at Arsenal. For many years now the one position England have not struggled with is world-class midfield players. Scholes, and then more recently Lampard and Gerrard. Now I see Wilshere as the future of English football, that is why it is so important they keep him fit."
Wilshere has been publicly backed by his manager Arsene Wenger, having been linked with a move to Manchester City in the summer. The Frenchman needs Wilshere to get back in his groove when he returns to first team action, with the Gunners currently joint on points with Manchester City at the top of the table.
However, a rash of injuries threaten to end their title charge yet again, with the Gunners currently without seven first team players, including three who have not kicked a ball since the start of the season. Xavi's words would have a major influence on Wilshere's confidence, which should be hanging by the thread given the amount of time he has missed in an Arsenal shirt.
© Copyright IBTimes 2023. All rights reserved.