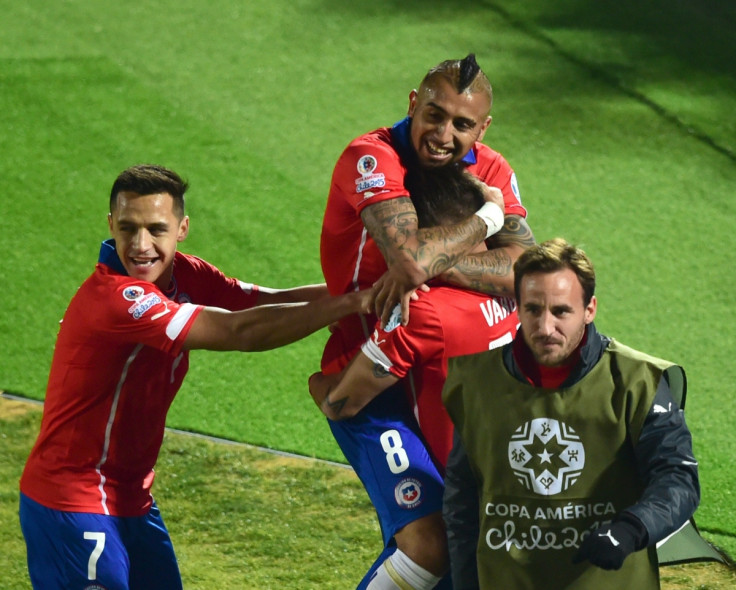 All is not well between Arsenal star Alexis Sanchez and Bayern Munich midfielder Arturo Vidal, according to Chilean reports about the key members of the Chile national team. Some reports during the summer transfer window claimed Arsene Wenger considered signing the former Juventus star, who once was linked with Manchester United, to reunite the two compatriots at the Emirates Stadium and make Sanchez even more comfortable at the north London club.
But La Tercera claims that even though the two stars used to play together at Chilean side Colo Colo and share the same agent in prestigious Fernando Felicevich, they are not friends. The publication claims they have a feud due to jealousy while pointing out it came to light on social media following Arsenal's 5-1 defeat to Bayern Munich in the Champions League.
Vidal publicly complained on his Twitter account about how little the Chilean press covers his successes, in opposition to Sanchez's achievements as when the Gunners beat the Bundesliga giants in the previous encounter at the Emirates Stadium, the local press was full of praise for the Arsenal star.
"Hahahaha What little people speak about football in Chile when King Arturo wins !!", wrote Vidal who in the summer of 2015 was under scrutiny in his country after having a car accident during the Copa America while allegedly driving under the influence of alcohol.
La Tercera claims Sanchez quickly responded to Vidal with a curt message on his Instagram account while saying: "In life you win and you lose etc.... but life still goes on and you do your best... But the positive person is the one who falls, gets up, shakes it off, patches themselves up and smiles at life and says 'Here I go again'.
The Chilean publication suggest the origin of that rivalry is the jealousy between each other while it credits a friend of both stars saying: "They envy each other over what one achieves and vice versa. It is normal in football. It may look that they have everything but they always want to have more than the teammate. They compete for who has the best car and, the moment and even for women. They want to be better than the other and prove it. That's why the face each other."