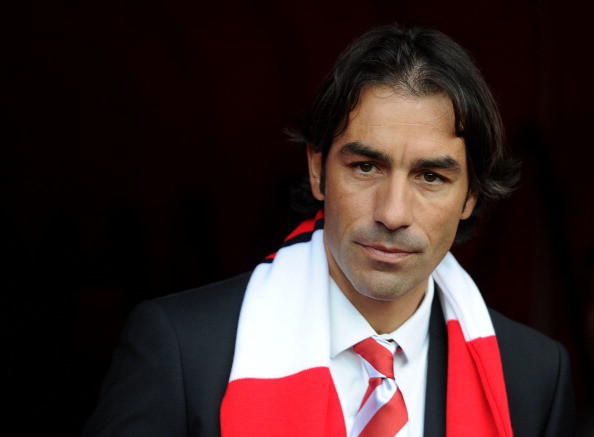 Former Arsenal star Robert Pires has urged manager Arsene Wenge to sign a new Patrick Vieira during the January transfer window in order to win the Premier League title with reports claiming the Gunners are still monitoring Sami Khedira's situation.
The North London side spent around £80m in the summer to bolster their squad with Alexis Sanchez, Mathieu Debuchy, David Ospina, Calum Chambers and Danny Welbeck joining.
However even though they were strongly linked with Khedira and Sporting Lisbon star William Carvalho, the Gunners boss failed to secure a much-needed defensive midfielder.
Pires, who was part of the Invincibles side that went unbeaten throughout the 2003-04 season, has hailed the summer arrivals but believes they still need a holding midfielder like his former teammate Vieira if they want to beat Chelsea and Manchester City to the title.
"I think Arsene Wenger has a very good team at Arsenal but I do think they need one player in midfield in the mould of Patrick Vieira," he told Sky Sports.
"They need a tall player, a strong player because in England you need players who are physical. That position is very important and I think that is the only missing piece."
"That aside everything is good because they have some good creative players and Wenger has bought some good young players like Alexis Sanchez, Danny Welbeck and Calum Chambers."
Arsenal have had a laboured start to the Premier League, securing just 15 points from the first nine games and conceding 11 goals.
But Pires believes they still have time to overcome the situation and hopes Theo Walcott's return to action will help them in the challenge.
"I hope we can still win the title. Of course it is going to be very difficult, but the season is very long and the Christmas period coming up will be a very important one for Arsenal.
"The situation is not too different from when I was an Arsenal player. It was very tough, very difficult against teams like Man United, Man City, Chelsea and Liverpool. The good news is that Theo Walcott is coming back but the bad news is that Mesut Ozil is out.
"But I still believe in Arsenal, I believe in the players and of course I believe in Wenger."