Theo Walcott believes that Arsenal's game with Liverpool on Wednesday evening will be even more "intense" as the two teams are similarly placed and battling to achieve a top four finish.
Arsenal are currently in sixth place, just four behind bitter rivals Tottenham who are in fourth, and will be looking to gain some ground on Liverpool who are currently just one place, and three points, behind them in the table.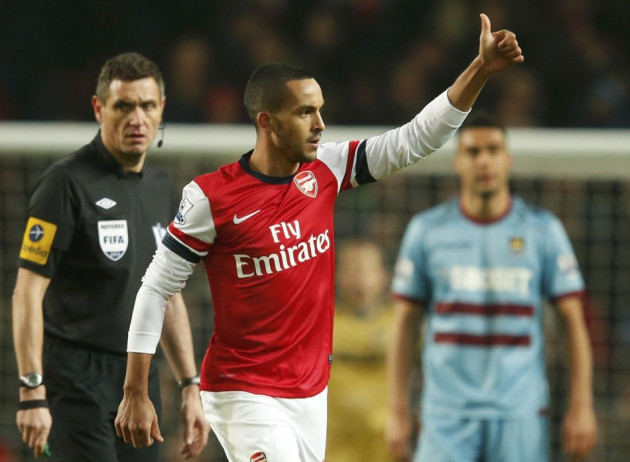 Both sides have been inconsistent so far this season but are hoping to enjoy a successful second half of the season as they desperately attempt to overhaul Everton and Tottenham in order to secure a top four finish.
Liverpool will be looking to get over the disappointment of losing to Oldham in the FA Cup, while Arsenal will be hoping that they can replicate the form they showed in their last home game, a 5-1 thrashing of West Ham.
Walcott added to his tally in the fixture against West Ham and now has 17 goals in all competitions to his name. The 23-year-old knows the importance of the game against Liverpool and is confident that the Gunners can come out on top.
"It's going to be an intense game [against Liverpool]," Walcott told the official Arsenal website. "Both teams are fighting for that fourth position and are very close together. But I think the way we played at home the other day [against West Ham] shows that we are strong enough to beat them.
"Yes [the momentum is growing]. It has been up and down, there have been patches of brilliance, but we need to do it in every game. We have tended to start slowly and then wake up and that's something we need to get out of our system. It's about being concentrated.
"I'm definitely enjoying my football," added Walcott. "I think the last two years have been strong as well but I've always enjoyed my football, no matter what. I always listen to the right people and always enjoy every time I get a chance to play."
Arsenal have already beaten Liverpool once this season when goals from Lukas Podolski and Santi Cazorla helped them achieve a 2-0 win at Anfield back in September.