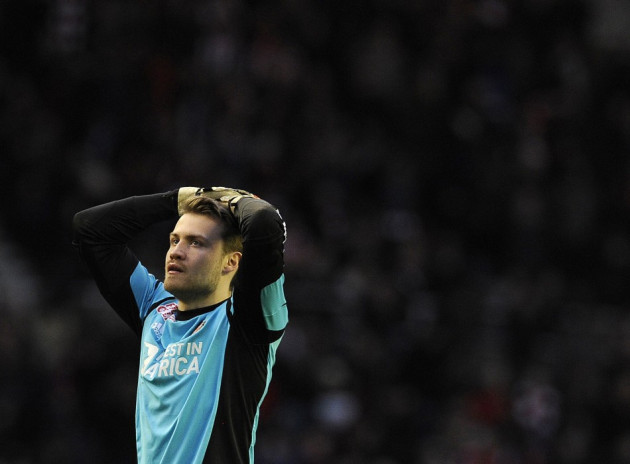 Arsenal and Liverpool are both reportedly considering making a bid for Simon Mignolet after the goalkeeper's agent admitted he won't be signing a new contract with Sunderland this summer.
Mignolet revealed this week that he didn't enjoy his last season with the Black Cats, in which the side had to fight off the threat of relegation until the second last game of the season.
He has been connected with multiple Premier League moves in the lead up to the summer, with both Liverpool and Arsenal believed to be in the market for a keeper.
And both sides will be boosted by the news that he won't sign an extension on his current deal with Sunderland which runs out in 2014.
Mignolet's agent Nico Vaesen told the Sunderland Echo of talks with his current club: "There is no progress. I think it is very unlikely that he will sign a new contract.
"Simon has obviously come to a point where he wants to step up a level and there is a lot of interest in him.
"He is very ambitious and wants to play in the World Cup in Brazil next year. It was a good thing that Sunderland stayed up and it is a fantastic club where he has had three great years.
"But it is maybe time to step up a level and play for a club competing for a European spot."
While Liverpool are not currently able to offer European football to incoming players, the side have the ambition of becoming a force throughout the continent once again.
Brendan Rodgers has continually insisted that he wants to keep Pepe Reina in the number one position but the Spaniard is still being linked to a possible return to former boyhood-club Barcelona.
Meanwhile, Arsene Wenger's struggles with his goalkeepers have been widely documented as the Frenchman jumped between Wojciech Szczesny and Lukasz Fabianski last season in search of someone who could deliver consistent performances.
Mignolet can offer immediate experience in the Premier League and is clearly ready to make the step up to a club who can match his ambitions.
His agent added: "All teams that are interested in Simon, we direct them to Sunderland.
"He still has a two-year contract there and any interested clubs have to agree a price with Sunderland first. That is the way we conduct our business."