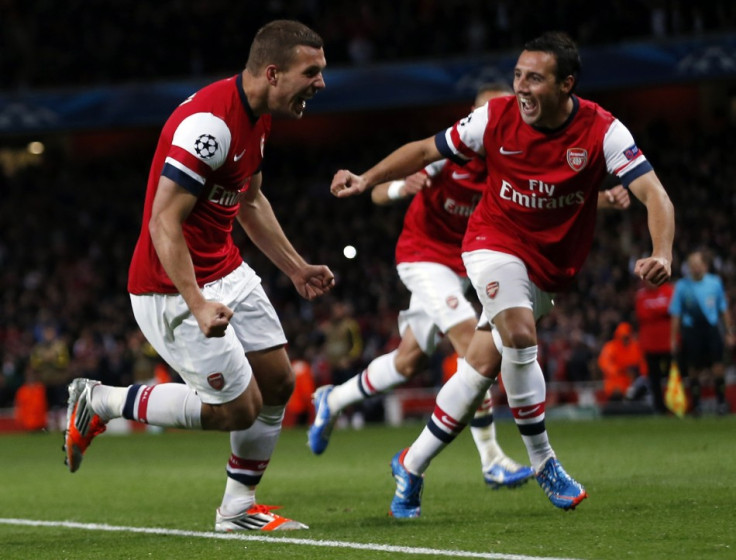 Lukas Podolski has revealed that as a child he looked up to Brazilian legend Ronaldo, with the Arsenal striker also joking that he'd very happily take the other Ronaldo, as in Cristiano Ronaldo's right foot to accompany his left.
Podolski has settled quickly into life at the Emirates since his move from Cologne, and the Germany international has scored four times so far this season for the Gunners.
And in a Twitter Q&A with the official Arsenal website, Podolski could not speak highly enough of Ronaldo, who played for clubs including Real Madrid, Inter Milan and Barcelona
When asked which footballer inspired him the most when he was young, he answered: "When I was young, it was Ronaldo. I looked up to him."
Podolski also claimed he'd rather take former Manchester United Cristiano's foot than Messi's, saying: "[I'd take] Ronaldo's right foot because I have a good left foot!"
Podolski had a brilliant run at Cologne before his move to Arsenal in the summer, scoring 20 goals for both club and country in his final season and having a great impact on the club's fight to stay in the Bundesliga.
Unfortunately it wasn't enough to keep the side in the top-flight in Germany, as they were relegated. He made the move to Arsenal early on in the summer.
While many within the club insisted that it wasn't to replace Robin van Persie, who at the time was believed to be in protracted contract talks with the club, but after the prolific striker's departure, Podolski has had to shoulder a great deal of pressure alongside Olivier Giroud to keep the club in the mix for a top four spot.
Giroud, who also participated in the Q&A, said that he saw Thierry Henry as a benchmark for how good a striker can be for Arsenal, as the Frenchman continues to find his way in north London.
"There were lots of very good players [in Arsenal's history]," he said. "My favourite is Henry. He had a very good time and scored so many goals."
He added that he believed his best goal so far this season was in the Champions League, saying: "I think the goal I scored in Schalke is the most important. It was my first in the Champions League with a good assist."