Arsene Wenger has reiterated his faith in all three of his goalkeepers, insisting he has complete confidence in whichever of the trio he selects to guard the Arsenal net.
The Arsenal manager has utilised Wojciech Szczesny, Vito Mannone and Lukasz Fabianski on different occasions this season, with the latter recently given another opportunity as the club's custodian after Szczesny suffered a recent dip in form.
The 27-year-old Fabianksi is a "major doubt" for Arsenal's clash with in form Everton on Tuesday evening after suffering a rib injury in Saturday's 3-1 win over Norwich City, which could allow his international compatriot - who has missed the Gunners' last five games - back into Wenger's first team plans.
While all three of his goalkeepers have come under scrutiny during their time at the Emirates, Wenger maintains that either one of the trio are capable of stepping up from the bench at any given time.
"I have total confidence, no matter who starts the game," Wenger told Arsenal's official website. "In the past I have shown that, that I trust these players and trust that no matter who plays, they will show their quality.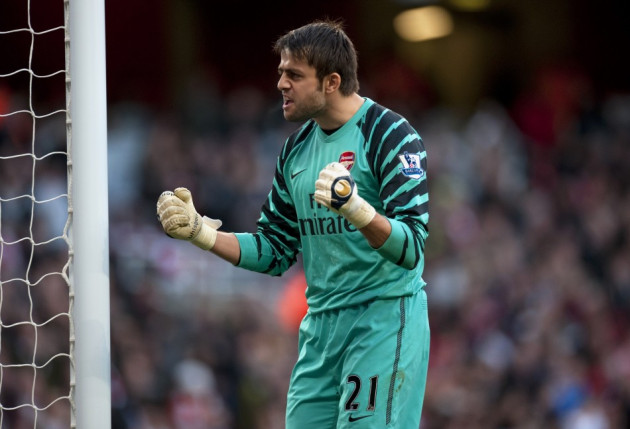 "We have three good keepers. That's been shown during the season. Everybody had the ability to show his quality and that's what you want."
Mannone, who is largely considered the club's third choice goalkeeper, was given a chance to prove his worth earlier in the campaign when a string of injuries saw Szczesny ruled out. But in the Poland international's latest absence from the first team, the often maligned Fabianski has been given the nod, taking his place in goal for the Gunners' last five games, all of which they have won.
Wenger has been impressed by the 27-year-old's drive to re-establish himself within the Arsenal set up, and believes his renewed form to be an ideal method to reinvigorate the returning Szczesny.
"Fabianski's reflexes, his positioning and his decision-making have been great," Wenger added. "We will decide as late as possible [on his availability].
"[Szczesny has responded] really well. He worked very hard and worked very well. I do not want to make a case of it before the game. He's handling the situation very well and in a positive way."
Arsenal welcome Everton to the Emirates Stadium on Tuesday evening, with David Moyes' side looking to continue their challenge for a coveted top four finish. The Toffees currently lie in sixth place on 55 points, four off third placed Arsenal with Chelsea and Tottenham Hotspur lying in-between.