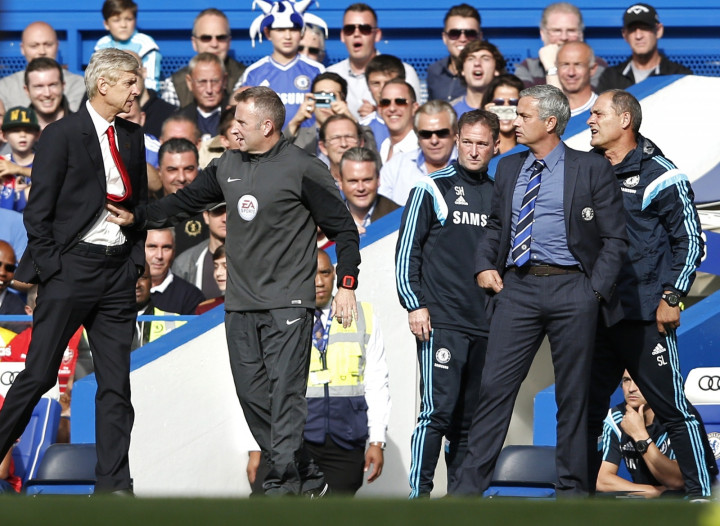 Arsenal manager Arsene Wenger has defended his push on Chelsea boss José Mourinho but admits he regrets the fracas between the pair during the Premier League encounter at Stamford Bridge.
Wenger confronted Mourinho on the touchline after calling for Gary Cahill to be punished for a tackle on Alexis Sanchez in the first half of the 2-0 defeat last weekend, pushing the Blues chief away before the pair exchanged a series of expletives.
The Football Association will not take any action against Wenger and Mourinho, but the incident cast a shadow over the game in which Chelsea overwhelmed Arsenal to further flex their title muscle.
And in an attempt to extend an olive branch to his long-term rival Mourinho, Wenger has apologised for the skirmish, but feels he was justified in supporting his player.
"They [the media] gave too much importance to this story," he told Téléfoot. "In hindsight I think I should not have reacted at all, it's not a way to behave on a football field.
"I always regret any signs of violence and I apologise, but that's a part of games where everything is manic.
"And then we have quite a substantial past. Did Mourinho provoke me? That is how I felt. I did not enter Chelsea's technical area."
In a response to the incident, Mourinho added to Téléfoot: "I have no words to explain what everybody saw in those images."
Wenger and Mourinho have been engrossed in media sniping throughout their spell together as managers of Arsenal and Chelsea in the Premier League, but the episode on the touchline a week ago was the first physical conflict between the pair.
Last season, Mourinho labeled the Arsenal boss as a "specialist in failure" having gone nine years without winning a major trophy before last season's FA Cup win and the rivalry is showing few signings of letting up.