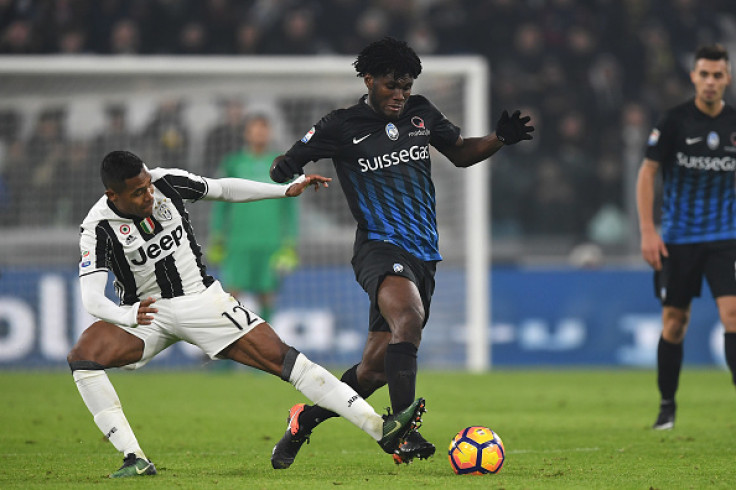 Premier League clubs are queuing up to sign Atalanta midfielder Franck Kessie according to the player's agent George Atangana.
The 20-year-old defensive midfielder has been impressive in his first season in the Serie A and despite playing in a deeper midfield role, he has scored six goals and made another two in 16 league appearances. Kessie joined Atalanta last summer, but spent the season on loan with Serie B club Cesena
Atangana has confirmed interest from the big five of English football, but according to Italian publication Calciomercato, Tottenham Hotspur are also keen on the midfielder and have reportedly submitted a €23m (£19.7m, $24.2m) bid. The player's agent refused to speculate on the asking price to sign Kessie but made it clear that his finding the perfect project to continue his football development is the main priority while choosing his next destination.
"We have a lot of interest from the Premier League. Chelsea, Liverpool, Manchester United, Manchester City and Arsenal," Atangana said, as quoted by the Manchester Evening News.
"I cannot say at this stage how much he will cost but we are talking about one of the best young players in the world.
"But for us the most important thing is that the technical project is the right one for him. Franck is very, young so we have to be very careful about his development," he added.
The Ivory Coast international has been scouted by a number of clubs following his impressive performances this season, but Manchester United are likely to hold an edge when the race for his signature begins after he admitted fondness for the Old Trafford club.
"My idols are Yaya Toure and Essien. I was told that I have to work very hard to reach a big level," Kessie told Sky Italia, according to ESPN. "Now I want to learn Italian tactics but in the future, I like the Premier League. I'd like to play for Manchester United. I don't know if [Jose] Mourinho will be there, but Manchester United has always been my favourite team."