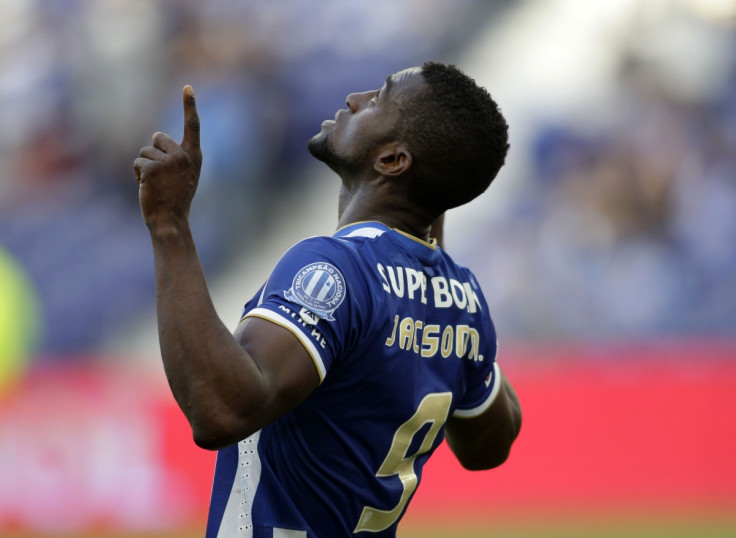 Jackson Martinez, the coveted Colombian striker, has confirmed Porto have given him "permission to leave the club" this summer amid reported interest from Manchester United, Valencia and Arsenal to secure his services.
The 28-year-old moved to Porto in July 2012 and has since garnered a reputation as one of the most clinical strikers in Europe after scoring 92 goals in 133 appearances, while winning the Portuguese top scorer award during three consecutive campaigns.
Liverpool and Tottenham were heavily linked with his services during the 2014 summer transfer window, while Manchester United, Valencia and the Gunners are said to be closely monitoring the situation ahead of next season.
United manager Louis van Gaal is in the market for a top striker to replace Radamel Falcao, while Arsenal boss Arsene Wenger has reportedly earmarked the signing of a forward as one of the priorities of the summer.
And in this sense, the French manager admitted earlier this season his admiration for the Porto striker.
Wenger said: "Top physical strengths. Hugely efficient, he is the kind of player who can make room for himself in the box. He could play in the Premier League because he has the body to make the difference. He uses it in a very intelligent way.
"Very short back lift and he's a very good finisher. He's on the list of many clubs, you know that. He will be the next big transfer who will give a big smile to Pinto da Costa [Porto's owner]."
Recent reports in Portugal later claimed the Gunners had agreed a deal in principle to secure his services by meeting his €35m (£25m, $38m) release clause but his agent, Luis Enrique Pompeu, has denied this claiming his future is yet to be decided.
"Nothing is decided yet. We have to wait [until] any situation can be closed," Martinez's agent said.
It appears the striker's days at Porto are numbered as the player himself, who is now with the Colombia national team ahead of the Copa America, has confirmed he has permission to leave the club this summer.
"Now I'm focused on the Colombian national team but obviously waiting to know what will happen with my future because I have already received the permission to leave the club [Porto]," he said to Radio Caracol.
Porto president Pinto da Costa already admitted in February that the club would sell him in the summer should any club meet his €35m release clause.