Robert Pires has claimed that Arsene Wenger could learn a lot from Sir Alex Ferguson's transfer policy, with Manchester United reaching a good compromise between youth and experience where Arsenal have failed.
The Gunners have lost a great deal of talent over the past two summers, with younger players alongside established stars leaving the club for greener pastures as their contracts wound down.
Theo Walcott is the latest to be holding Arsenal to ransom, and in the final 12 months of his deal he will be free to talk to clubs about a move in January if an agreement with the side can't be reached.
And Pires believes that United's youth policy, and ability to win trophies, is a system which Arsenal should be envious of as the north London club continue to come up short in their search for silverware.
"Wenger's strategy has changed, he wants to play with a young team but you can't win things like that, it's very difficult," he told Talksport. "[Sir Alex] Ferguson seems to have found the right balance between the mix of 'old' and experienced players alongside the young ones and I think that's what's missing right now at Arsenal.
"Arsenal's problems are a result of this policy. The team lacks balance and for the new players who have arrived, such as Santi Cazorla and Lukas Podolski, this puts them under a lot of pressure."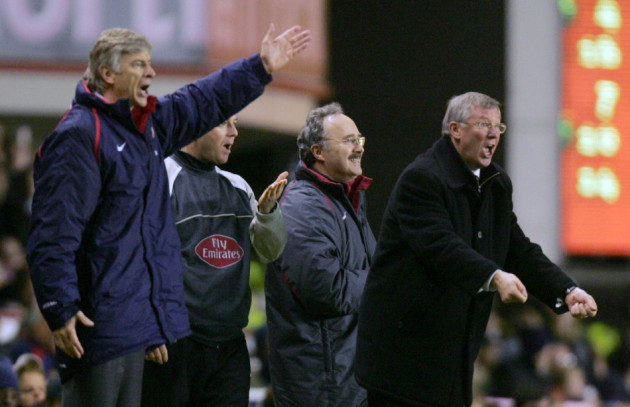 Both Ferguson and Wenger are seen as stalwart managers at United and Arsenal respectively, and the duo are not often in the papers connected with the possibility of a sacking.
And Pires believes that though Wenger is firmly entrenched at the Emirates, his results so far this season should still be put to the test by those around him.
"Arsenal goes with Wenger like Wenger goes with Arsenal - you can't have one without the other," he explained. "That said, the results this season have simply not been good enough.
"But you can't forget Arsenal have high expectations because of Arsene Wenger. He has done such a good job over all these years. You cannot forget what he has done for the club and neither should the chairman.
"It's unfair to compare what we did between 2000 and 2006 - we had a great team, a great mix of English, Spanish, Brazilian and French players. But now a lot has changed. The club's philosophy seems different."