Arsenal midfielder Alex Oxlade-Chamberlain hopeful of featuring in FA Cup final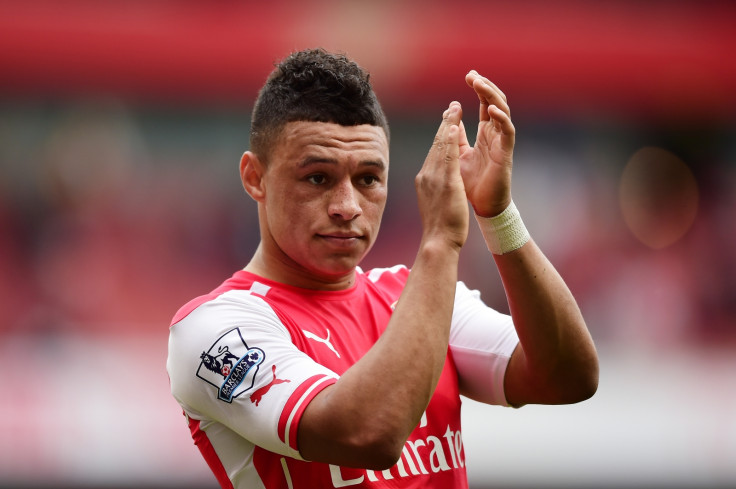 Alex Oxlade-Chamberlain remains optimistic of being fit for the FA Cup final after making a cameo appearance for Arsenal in the Premier League win over West Bromwich Albion.
The 21-year-old had not played since the 9 March before replacing Jack Wilshere after 77 minutes of the 4-1 win over The Baggies that secured the Gunners automatic qualification for next season's Champions League.
Oxlade-Chamberlain had spent a significant spell out with a groin injury and fears over his fitness for the showcase final on 30 May against Aston Villa grew after Roy Hodgson admitted he was unlikely to feature for Arsenal after leaving him out of his England squad.
But after a 13-minute run-out on the final day of the Premier League season, Oxlade-Chamberlain is hopeful of being involved at Wembley, having missed last year's win over Hull City through injury as Arsenal claimed their first major trophy in nine years.
"I don't know [if I'll make it]," he told The Mirror. "I hope that I'll be fit and I'll be available but it will be up to the manager to decide if he thinks I'm fit and I'm ready.
"I did feel [this season] was my best campaign. Gametime is obviously a plus – I felt like I was getting my fair share of that and I felt strong. For the first time I was an important part of the team.
"That's completely up to [manager Arsene Wenger] and in his hands, all I can do in training is prove my worth and show that I'm ready.
"The main thing is that whoever is picked goes and gets the job done and two FA Cups in two years would be a great achievement for us.
"Obviously I'd be delighted if I was but it's up to the manager and we'll have to wait and see."
Positive news over the fitness of Oxlade-Chamberlain comes as Wenger has sparked concerns over the physical state of Alexis Sanchez as the Chilean prepares to play in the summer's Copa America tournament.
The South American championship starts on 12 June, less than two weeks after the FA Cup final and less than a week after the Champions League final between Barcelona and Juventus in Berlin.
Wenger has questioned the timing of the tournament, as well as the early start of the 2015-16 Premier League season, and says Sanchez is the among the Arsenal players risking burnout in such a hectic schedule.
"I will watch but with a little bit of fear because Sanchez has played 50 games for us and goes there again, having already played in the World Cup last summer," he said.
"You are a little bit concerned and I feel this competition is a bit too much. I am really surprised that Fifa authorised that.
"It's disappointing that they speak a lot about the health of the players but when you look at the competition that is organised, this Copa America, and look at the date of the start of the Premier League, it is not reasonable.
"Moving the fixture calendar forward deeply affects pre-season and I believe it is the wrong decision of the Premier League to start on 8 August.
"The players have played the World Cup, then you have no winter break, you come out and when you reach the FA Cup Final, you play on 30 May and the European players called up by their international teams play until 14 June.
"Then you start on 8 August. If you count six weeks' preparation, where is the time for recovery?"
© Copyright IBTimes 2023. All rights reserved.