Francis Coquelin has revealed that he urged Arsenal midfielder Granit Xhaka to shoot once he had the ball in the middle of the park, leading to one of the goals of the afternoon. The Swiss international powered the ball into the net with immense force, leaving the goalkeeper with no chance.
Xhaka was left out of the starting XI yet again, with Santi Cazorla and Coquelin starting for the Gunners, like they set up against Paris Saint-Germain in mid-week. Xhaka came on from the bench to replace Cazorla, who was on a yellow card and had been warned by the referee to stay clear of trouble.
"I think it was a superb finish," the French midfielder told Arsenal's official website. "I was right behind him and I don't know if he was going to shoot, I was screaming at him 'shoot, shoot' in German. That's a great strike to be fair, a great first goal to score for the club and hopefully many more to come as well. I think it was Mo who passed him the ball so I can't claim the assist, but I'll take a bit of it!"
The midfielder was also buoyant about the Gunners' performance on the day, who had a flurry of clear-cut chances. Their work was made even easier by the red card to Jake Livermore. The defender was deemed to have intentionally handled the ball and stopped a clear goalscoring opportunity, for which he was sent off and a penalty awarded to the north London club.
"It was a good three points," he added. "It was a difficult game, obviously the red card made it a bit easier for us but it was a tough match so it was really pleasing to get the win. It could have been nervy, but I think in the last few weeks we have shown our character, in the last two games we were behind and came back into it.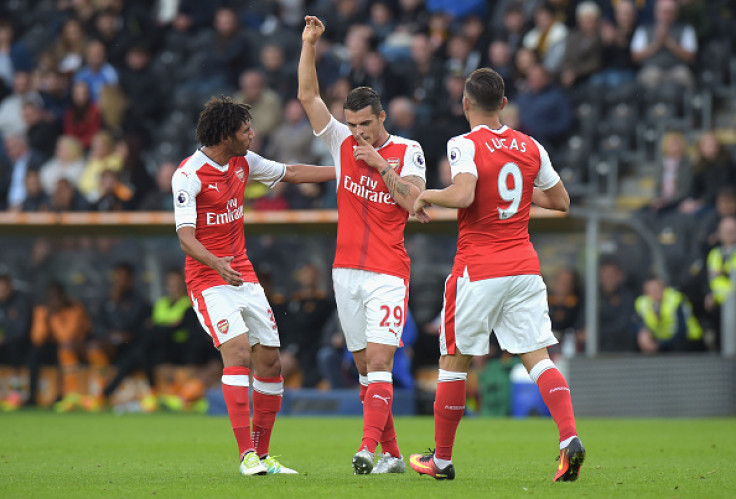 "Today we showed that even when a team comes back at us we have the character to finish it off. So that's good for the future and now we can concentrate on the next games coming up."