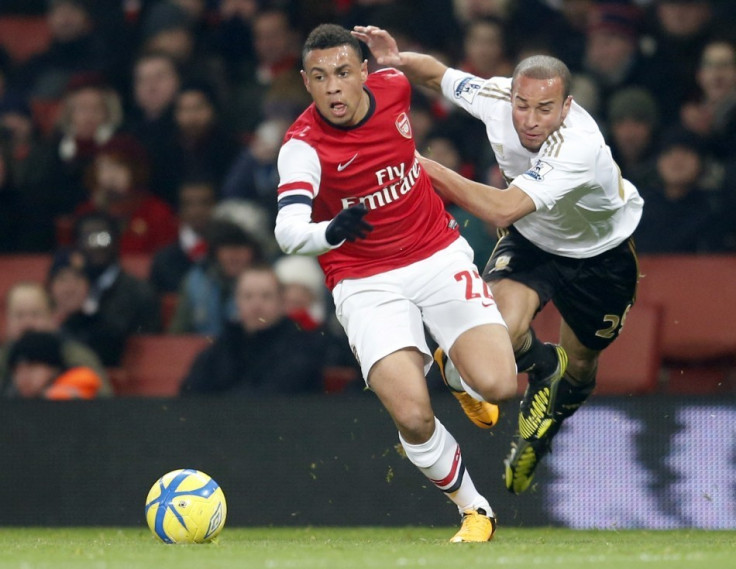 Arsenal midfielder Francis Coquelin is reportedly set to make the club sweat when it comes to signing his new contract.
According to the Daily Mail, the French midfielder wants to find out if he figures in the long-term plans of Arsene Wenger before committing his future to the club. With Jack Wilshere returning from injury next month, which was the cause for Coquelin's recall from a loan spell and his consistent presence in the team, the midfielder is not sure if he will keep his place in the starting XI now.
The 24-year-old midfielder, who is on the final six-months of his contract has been offered a new three-year deal by the club, but his recent performances in an Arsenal shirt has attracted interest from rival clubs in England and Europe and the midfielder is waiting to ascertain his chances of being a regular starter at the north London club.
The report claims that the midfielder, who has been with the Gunners since he was a 17-year-old, is keen to stay with the club, but it will depend on the amount of game time being offered on a regular basis.
Coquelin has been a revelation following his return from a loan spell with Charlton, he has started in five games for Arsenal, and the team has gone on to win four of those and conceded just three goals.
Wenger has lavished praise on the midfielder following the shock win against Manchester City and has confirmed that the midfielder will be offered a new deal.
"I saw that he made huge improvements in training so I sent him on loan for match practice. He took that challenge and he's done very well. We will offer him a new deal," the 65-year-old Arsenal manager said.
Arsenal have similarly in the past, waited until the last minute to offer new deals to key players and have come out on the losing side with Mathieu Flamini and Bacary Sagna leaving the club on free transfers.