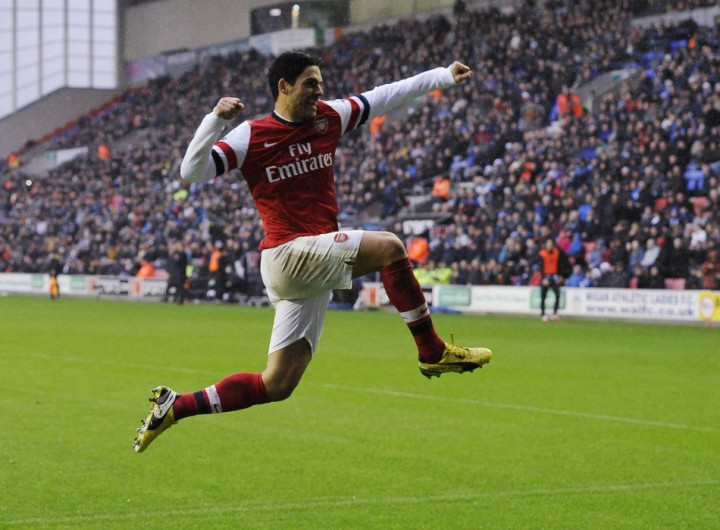 Arsenal captain Mikel Arteta is reportedly set to give the Gunners a major boost after returning to training following an ankle injury.
The Spaniard came off with an ankle injury during the Champions League qualifying game against Besiktas and it was suggested that he will be out for up to four weeks.
But Arteta has made a quick recovery just three weeks post the injury and seems to have resumed training at London Colney. He is pencilled in for a return for the crucial lunch-time clash against Manchester City, who visit the Emirates on Saturday.
Kieran Gibbs and long-term absentee Theo Walcott are also close to returning to full-fitness and this will come as a major boost to Arsene Wenger as they face crucial fixtures over the next couple of weeks including a trip to Germany to face Borussia Dortmund in a Champions League group stage match.
Meanwhile, Gunners forward Joel Campbell has spoken of his admiration for colleague Santi Cazorla and believes the Spaniard's ambidextrous technique is something unique and the Costa Rican has vowed to learn as much as he can from the former Malaga player.
"I must say that Santi Cazorla has some exceptional technical skills. He can take corners or free-kicks equally with his right or left foot. That's some technique! That is a very unusual thing to see and it has left me astonished," Campbell told Arsenal's official site.
The Costa Rican forward also believes that there will be a lot of competition for places and has admitted his willingness to fight for a place in the team, but his main focus is on improving himself as a footballer.
"I presume that every attacking player in the squad will fight with me for a starting place. But I am my biggest competitor - I have to train hard and get better day after day. Being here is a great opportunity for me," the Costa Rican forward added.