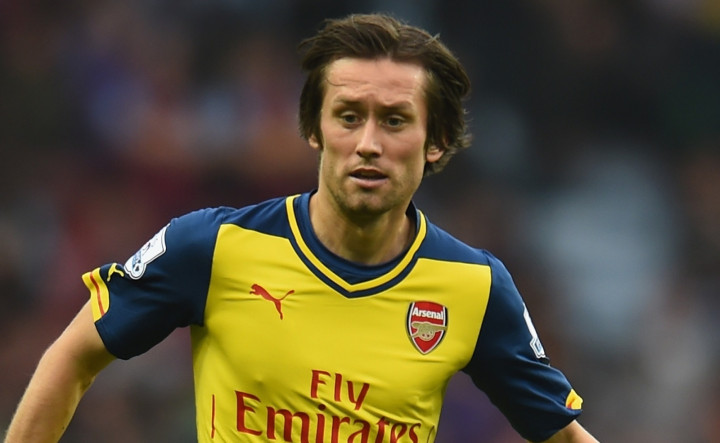 Arsenal midfielder Tomas Rosicky has hinted at a mass revolt from the first team squad at the Emirates Stadium after the continued omission of a number of players this season.
The 34 year old has made just one start and six substitute appearances in all competitions this season and with just 18 months remaining on his current contract his career in north London appears to be doomed.
Lukas Podolski and Joel Campbell, both of whom have played infrequently this term, have been linked with moves away from Arsenal – who have made a shaky start to the season both domestically and in Europe.
The Gunners are still to confirm their place in the Champions League last 16 after drawing 3-3 with Anderlecht last week while defeat to Swansea City on Sunday leaves the club 12 points behind unbeaten Premier League leaders Chelsea after just 11 games.
Amid Arsenal's problems, Rosicky has hit out at Wenger's selection policy which has ostracised a number of first team players and claims a several are unhappy with the Frenchman.
"I'm not sure what's going on," he told Denik.cz. "I understand that I am 34 years old and that it probably plays a role whether I like it or not. That's without a doubt. However, I am not in physical decline.
"When I played for the (Czech Republic) national team against Holland I ran 12km and according to the tests at Arsenal I'm in the top five in terms of speed."
"We are on good terms, so I do not really know what it is. It is purely a coach's decision. It's not my decline. My health is fine too. Of course I want to play, but there's not much I can do about it.
"I'm not in this alone, there are other players in a similar boat. When we do get a chance it's harder for us to get into our rhythm.
"So far this season has been disappointing for us. We haven't played well and when I've played I've not been at the forefront of things."