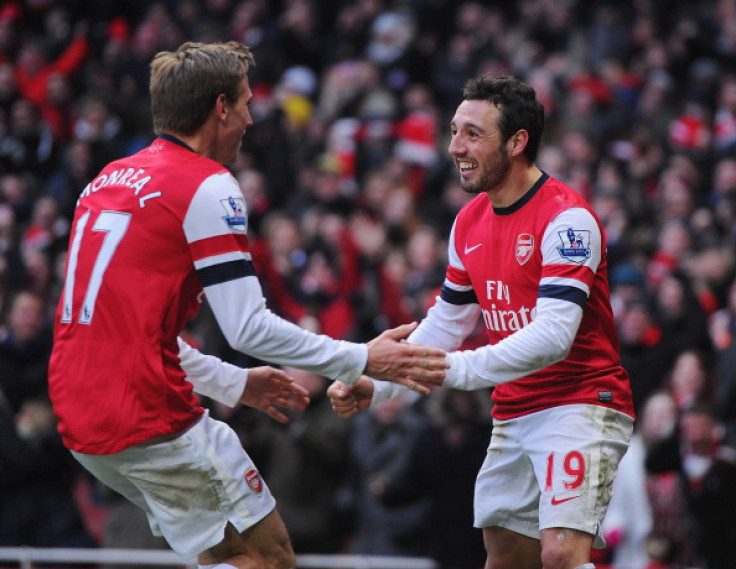 Arsenal are facing an uphill task in the Premier League title race as they are currently 11 points adrift of leaders Leicester City albeit with a game in hand. The Gunners were leading the table at the start of the year and were only two points behind in February after beating the Foxes 2-1 at the Emirates Stadium, however, their form dipped dramatically and it now seems unlikely for them to end their title drought.
Nacho Monreal, who has been one of the north London club's best players in the league, has identified one of the key reasons for their struggles in the latter half of the campaign and believes it is the absence of Santi Cazorla, who has been sidelined since November with a knee injury. The Spaniard had featured in every game for the Gunners until his injury and was instrumental in getting Arsenal's fluid style of play in motion from the heart of the midfield.
The former Malaga defender believes that his compatriot is the "perfect player" for Arsenal due to his ability to bring other teammates into the game and has also labeled Cazorla the most "technically-gifted" among the array of talent at Arsene Wenger's disposal that includes Mesut Ozil and Alexis Sanchez.
"Given the way we play, Santi is the perfect player for us because he loves receiving the ball, he brings our centre-backs into the game and really helps us to bring the ball out," the defender told Arsenal's official website.
"He's probably one of the most technically-gifted players we have in the team and obviously he brings a lot to the side. Everybody really likes him and we're aware that his way of playing and the amount of assists and goals he pitches in with are very important for us.
"Obviously he's had this injury that's kept him out for about five months and the team feels that. When you lose an important player the team pays for it," Monreal added.
Cazorla has returned to light training and is expected to be back in the first team by the end of April.