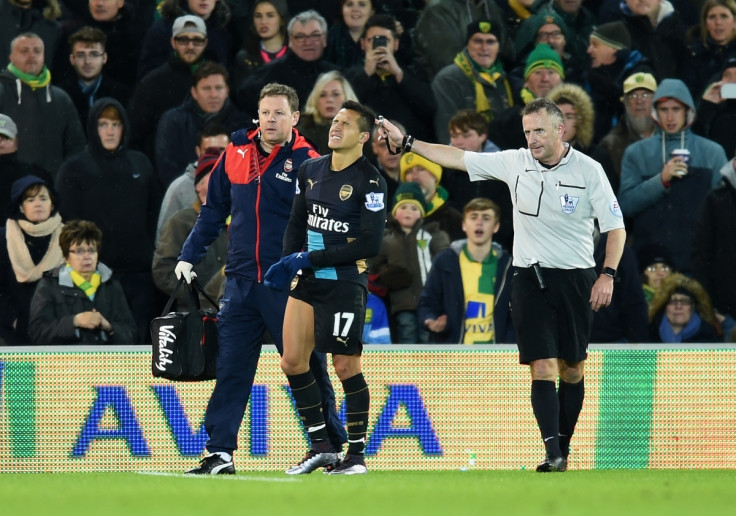 Arsenal manager Arsene Wenger insists it was not an "obvious mistake" to start Alexis Sanchez following the forward's latest hamstring injury. Sanchez, 26, featured against Norwich City on 29 November despite suffering a minor hamstring problem days earlier in a Champions League tie against Dinamo Zagreb.
The Chile international appeared to exacerbate the problem at Carrow Road, however, coming off after an hour. He is now expected to miss both Saturday's Premier League match with Sunderland and Wednesday's crucial Champions League showdown with Olympiacos.
Speaking at a press conference on Friday, Wenger took the blame for the latest in a spate of injuries to rock the club, but insisted the former Barcelona star was medically fit to play against Norwich.
"I don't know," Wenger told a press conference via Arsenal Player when asked on the severity of Sanchez's injury. "Sanchez has a hamstring problem but I don't know how long it will take. Usually he is a quick one to recover."
"We have medical tests," he continued. "We are quite sophisticated in testing our players. I had a chat with Alexis after his injury and he was adamant he felt perfect before the game because we tested his strength, stretching, all the signs we test every week were perfect. There was no obvious sign or alert before the game. You also have to trust the player."
Arsenal also lost Santi Cazorla and Laurent Koscielny to injury in that match and despite the France international being in contention to return on Saturday, Wenger is still without several key members of his first team.
Jack Wilshere, Danny Welbeck, Francis Coquelin, Mikel Arteta and Tomas Rosicky all remain absent but Wenger is hopeful the players he can call upon will fill the void.
"Ideally you want them all to be with you, but we are prepared to deal with it," Wenger said. "It is a big miss with players like that but it is a opportunity for players to come in, fill in, show they have the quality and that they are fresh and that can give a good impact to the team."