Arsenal midfielder Alex Oxlade-Chamberlain has expressed his disappointment at the lack of game time this season. The 19-year-old has made only 11 league starts so far this season, scoring one goal and assisting two.
Chamberlain had moved to Arsenal from Southampton in 2011 and has been heralded among the best young talents in English football. The teenager is now a regular in the national side and was part of Roy Hodgson's side that represented the Three Lions at the Euros last year.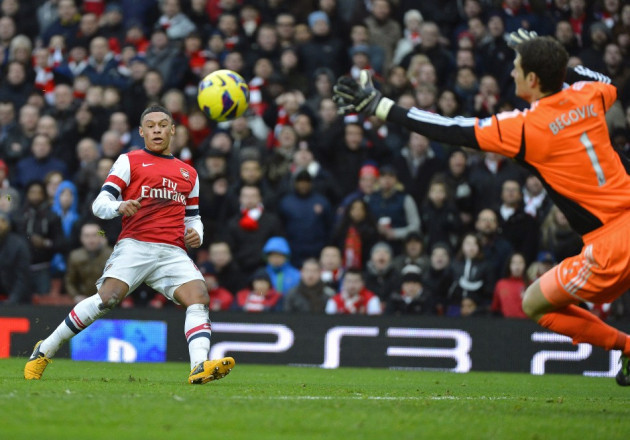 The youngster scored the second goal in England's 8-0 annihilation of San Marino in the World Cup Qualifiers last week and is expected to feature in Arsenal's weekend game against Reading, following the unavailability of Theo Walcott. The player is hopeful of making a positive impact in the run-in after the international break, with the Gunners pressing for a top four spot.
"My season hasn't progressed in a way as much as I would have wanted to because I always want to play. But I can't complain with the way the season has gone. There is still a long way to go in the season and I could be a crucial part of that at some time. I've just got to make sure I'm mentally ready and physically ready to help the team. Obviously we've got a tough run-in to make sure we get the top four," he said.
Chamberlain has also thanked former captain Robin van Persie and teammate Walcott for their support, when he was going through a tough time, and believes that manager Arsene Wenger has his best interests at heart, when taking decisions regarding his participation.
"But I also understand the manager, in Arsene, will protect his younger players. I remember speaking to Robin van Persie last year, and Theo Walcott before, and they said they had experienced the same thing. The boss (Wenger) has got his reasons for what he does. He's a very wise man, a brilliant manager, and I'm sure he has got good reasons. All I can do is keep working hard and, when I do get chances, make sure I'm doing well, and be a positive player in the team," Chamberlain added.