Arsenal news: Laurent Koscielny happy to end career with the Gunners amid dreams of a testimonial at the Emirates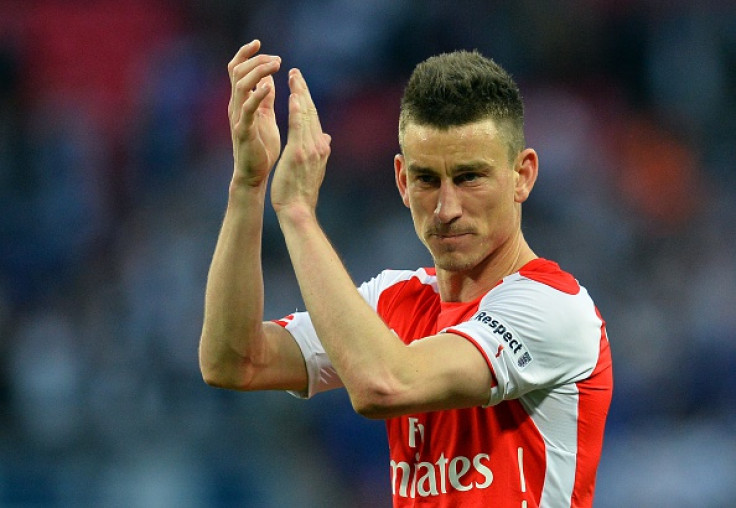 Laurent Koscielny has expressed his desire to finish his career at Arsenal while dreaming of a testimonial at the Emirates Stadium. The French defender, who joined the club in 2010, still has four years on his current contract, which will take to within one-year to earn a testimonial for his services rendered to the club.
The 30-year-old defender has become a fan favourite and is clearly one of the first names to go on Arsene Wenger's team sheet owing to his impressive performances in recent seasons. The 2015/16 season has seen Koscielny take his game to the next level and is one of the Gunners in-form players and apart from his impressive defensive displays, which has seen Arsenal concede just nine goals thus far – to be second best behind Manchester United – he has added goals to his game and already has two in 10 league appearances.
The French international has indicated that he will decide on when to hang up his boots following the end of his current contract with the Gunners, but made it clear that he will not continue to play until he is 40-years-old unlike his compatriot and Arsenal legend Robert Pires.
"I have everything to be happy here. I have no reason to leave. At the end of my current contract, I will be one year away from my testimonial! Imagine a testimonial at the Emirates. It would be amazing!" Koscielny said in an exclusive interview with Arsenal Magazine.
"I don't know. I will play for as long as my body can take it. I still have four years left on my contract here. I will be 34 then. Then we will see how I feel physically. But even if you are still fit, at some point, you have to stop! You can't do a Robert Pires and stop playing at 42 in India! [laughs]."
Koscielny believes the north London club have a good chance to win the Premier League title this season, but warned his teammates that their performances need to be consistent every week, unlike what they have shown in the Champions League.
Arsenal are currently level on points with league leaders Manchester City, with only an inferior goal difference keeping them on second place, but their fortunes in the elite European competitions have been a contrast as Wenger's team face the prospect of failing to qualify for the group stages for the the first time since the French manager's arrival.
"It could be. If we can reproduce regularly the first 20 minutes from the Manchester United game, yes we can have the ambition of being champions. But if we play like against Olympiacos, we won't even finish in the top four."
"We have a good squad, a lot of quality. We need to be consistent, though, to win the league. It's a marathon. Every weekend, we have tough games," the Gunners defender added.
© Copyright IBTimes 2023. All rights reserved.