Atletico Madrid striker Jackson Martinez and Napoli forward Gonzalo Higuain are both planning to remain at their respective clubs – an early blow to Arsenal's plans in the January transfer window. The pair have been constantly linked with moves to North London in the past, but despite contrasting campaigns neither player is ready to up sticks.
The Daily Express understand the Gunners have continued to monitor Martinez despite him overlooking the Premier League side in the summer and moving to the Spanish capital from FC Porto. The Colombia international has scored just two La Liga goals for Atletico since the high-profile switch, but the player is unwilling to throw in the towel.
"[The support at Vicente Calderon] is a positive for me," Martinez, who was linked with a £25m ($38m) move to Arsenal in the summer, told La Sexta, according to Sky Sports. "I'll fight until the end and it's not in my head, as has been said, to leave next season.
"I'll stay as long as the club wants me. That's according to results, and we know that's the way it is. The team is securing good results and I just need to keep working hard. I try and work hard in every game. I'm trying to adapt bit by bit but I do acknowledge that my productivity could be higher."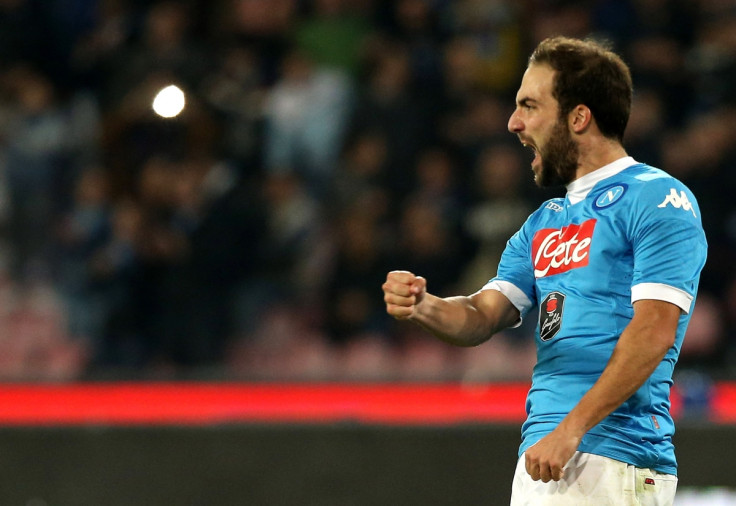 Meanwhile, Napoli hitman Higuain – scorer of nine Serie A goals in 12 starts this term – is also seemingly out of Arsenal's grasp after the player's agent denied he will leave the club. Italian publication Calciomercato that Arsene Wenger is still interested in the Argentina international – who is valued at £64.7m according to Napoli president Aurelio De Laurentiis.
But the player's agent and brother, Nicolas Higuain, says he has no plans to join Arsenal and is committed to staying in Italy. "In Naples, as I said, we're fine," he told Tuttonapoli.com. "I am in Argentina for five months, not travelling around the world trying to sell my brother.
"If tomorrow came a club and found a deal with De Laurentiis it would be another matter and he would speak with him, but from our side there is no intention. We're not planning a future elsewhere."