Arsenal Midfielder Rejects Fabregas Comparisons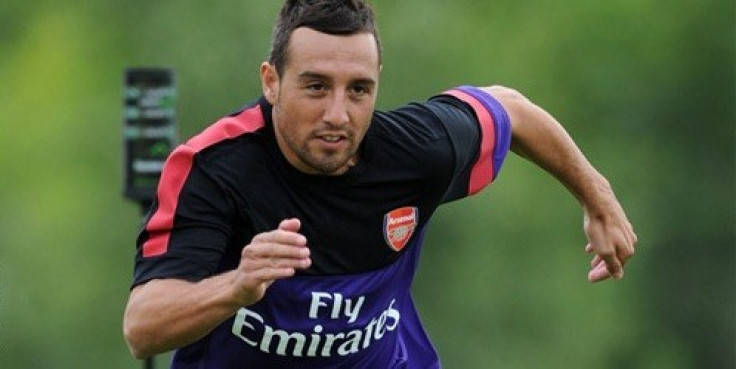 Arsenal playmaker Santi Cazorla has called on the club's fans to stop comparing him to former captain Cesc Fabregas. The 27-year-old Cazorla signed for the Gunners this summer, from Spanish side Villarreal, and has become an instant hit with supporters.
"Please don't compare me with Cesc Fabregas. I am Cazorla and not Cesc. It's not possible to compare because our styles are different," the former Villarreal star insisted, adding, "Now I'm here I have noticed that Cesc is a symbol for this club and I am far away from being that. I spoke with him before signing - and other colleagues in the Spanish team. My choice was clear."
Cazorla was signed for a fee believed to be in the region of £15m and was widely seen as a replacement for Fabregas, who left, after a prolonged and acrimonious transfer saga, for boyhood club FC Barcelona. The midfielder's departure, coupled with the subsequent sale of French international Samir Nasri to Manchester City, left Arsenal without a recognised playmaker and the impact, all through last season, was clearly felt. Despite the fact Dutch striker Robin van Persie scored an incredible 30 league goals, the club's inability to control play at times was an issue.
Incidentally, Cazorla's reference to colleagues in the Spanish team is to City midfielder David Silva. It seems he spoke to the 25-year-old former Valencia winger about football in England and received an enthusiastic and positive recommendation... which was what eventually made up his mind.
"I spoke with Silva before I came here and he said I would enjoy everything about the Premier League," Cazorla explained, adding, "He's won the title with Manchester City and said I'd enjoy the football and the respect between players, which is different to Spain. I'm very much at ease, so I'm glad I came. He gave me an introduction to the adventure of English football."
Cazorla has adapted brilliantly and quickly to life in the Premier League and, so far, along with fellow new signing Lukas Podolski from FC Koln, been extremely impressive for the Gunners. In fact, both players have earned praise from the club's managerial staff - Arsene Wenger and Steve Bould.
"Cazorla has gained the respect of everybody very quickly. Cazorla is humble, he loves the game and that is what you want from every football player," Wenger was quoted as saying, after the midfielder scored his first goal for his new club in the 2-0 defeat of Liverpool, adding, "He loves the game, loves to play with his partners and that is the best way to gain respect from everybody."
The Gunners' next game is against newly promoted West Ham United.
© Copyright IBTimes 2023. All rights reserved.