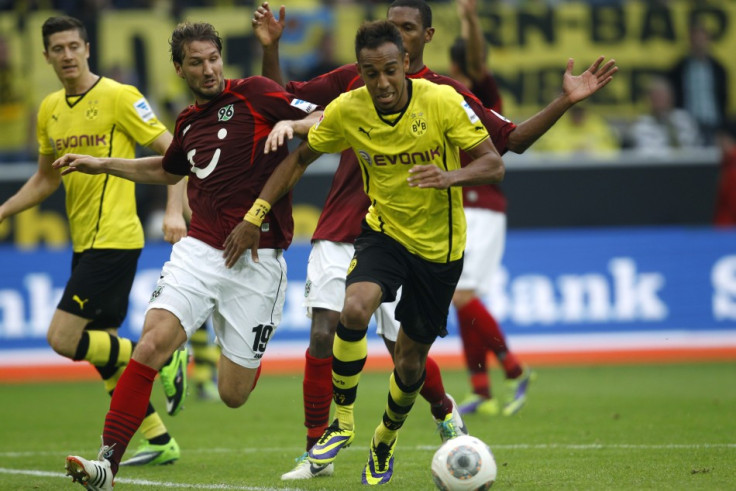 Arsenal are interested in signing Pierre-Emerick Aubameyang from Borussia Dortmund as a replacement for Theo Walcott, according to Sky Sports.
The forward is known for his marauding runs down the wings and has the pace to match contract rebel Walcott, who is expected to open talks with the management after their FA Cup semi-final against Reading on 18 April.
Jurgen Klopp's departure has put a plethora of players' future into the doldrums and Arsenal are trying to crash the party with a bid for their star attacker this season.
Aubameyang has been among the goalscorers in spite of Dortmund's dire season on all accounts, scoring 17 times in 37 appearances for the club. However, Dortmund are expected to charge up to £30m for his signature, which the Gunners can recoup should they be able to move Walcott from their squad in the summer.
Marco Reus is another target that Wenger is keenly interested in but he will face competition from a lot of quarters including from the likes of Real Madrid and other top clubs across Europe.
Wenger is looking to strengthen his squad in the summer to properly challenge for the title next season, having finally found some cohesion in his squad. They are on an eight-match winning run in the league and have an FA Cup semi-final game lined up against Reading in the weekend.
However, their failure to start the season like they did last year has played spoilsport in their title hopes, with Chelsea currently seven points clear, with a game in hand.
Meanwhile, the Frenchman has expressed discontentment at BBC's decision to have their FA Cup semi-final pitted at the same time as the game between Manchester United and Chelsea.
"You would like it to be a unique competition played, especially the semi final and final. It's up against a very big game and it's a surprise to me," Wenger said.
"I'm surprised TV companies have not sorted it. It's something that should be looked at," he added.