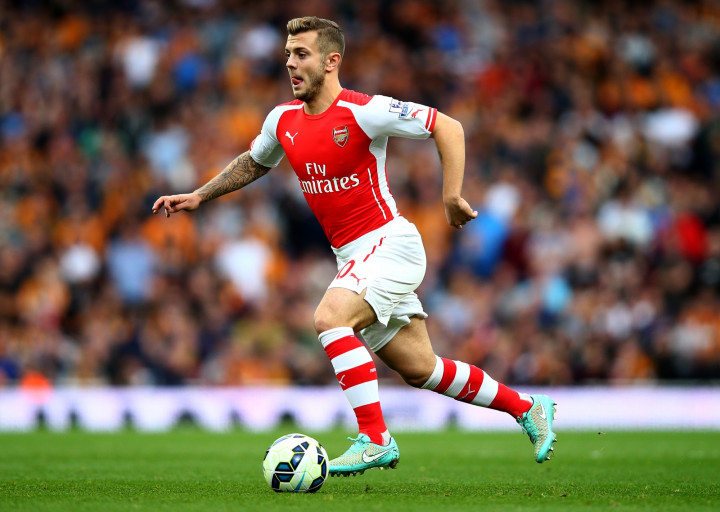 Arsenal manager Arsene Wenger is reportedly preparing a bumper new deal for midfielder Jack Wilshere.
According to the Mirror, the England international is set to become one of the highest earners at the club and is set to sign a deal that will keep him at the club till the summer of 2020.
Wilshere, who has spent his entire career at Arsenal, already has three-years remaining on his current deal, but the club are keen to extend his deal and build the team around the midfielder.
The 23-year-old midfielder is being groomed as the future captain of the club and Wenger is keen to secure him following impressive performances for the club and country this season.
The report claims that the club have planned talks with Wilshere's representatives in January and hope to conclude a deal before the end of the season.
The Three Lions midfielder, came in for some criticism for his lack of progress in the beginning of the season, but the player, who has suffered from multiple injury troubles in recent seasons, has answered his critics with some top quality displays, that have seen him pick up four consecutive Man of the Match trophies for England in their European qualifier matches.
Meanwhile, Wenger has revealed that the Arsenal defence has been naïve in recent games, after yet another loss to Manchester United in the Premier League on Saturday.
The Gunners dominated possession throughout the game and had the better chances, but failed to convert any of them, and in the end were punished by United on a counter attack. Wenger has admitted that there were a few positives to take away from the game despite the massive disappointment.
"We missed a few opportunities in the second half, even in the final 20 minutes. You have to be efficient in top-level games and we were not efficient enough in our good period, but there were a lot of positives in the game today. Even if we are very, very disappointed, we have to keep that and rectify. At the moment defensively we are a bit naïve," Wenger said, as quoted on Arsenal's official site.