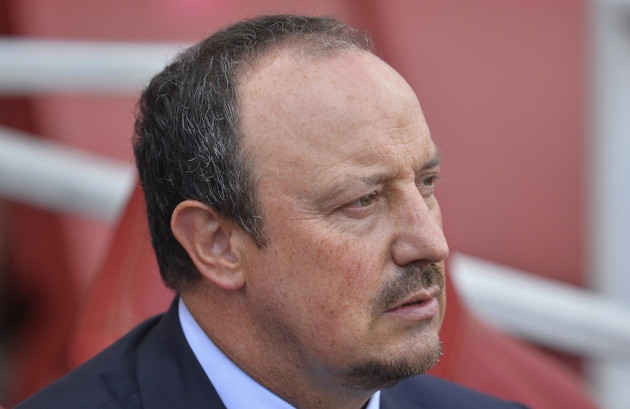 Rafa Benitez has pinpointed how Napoli were able to take advantage of Arsenal's weaknesses in their final Champions League group match with the manager admitting feeling particularly frustrated after missing out on qualification for the final 16.
Napoli went into their final match with the Gunners needing a three-goal win to seal qualification in their group if Borussia Dortmund were to defeat Marseille in the corresponding group match.
Dortmund scored in the final minutes to make this a necessity for Benitez's men and even though they were able to win 2-0 against Arsenal they were unable to get the final goal to knock the north London side out of contention for the next stage.
And Benitez explained in his column for the Independent that Arsenal are the kind of side where you must achieve a perfect balance between your defence and attack to get the upper hand.
"If you are too offensive against Arsenal they can be dangerous so we had to look for balance between defence and attack," he explained.
"We had to keep looking for another goal but not be too desperate.
"If we had conceded early it would have been an even bigger task than the one we had at Anfield in that famous game against Olympiakos in 2004 - another last group stage game when we were adding up the numbers."
He continued: "I thought we could do it [win by three goals] - even after the Germans had scored their big goal. Arsenal were not creating too much in attack and they had lost Mikel Arteta to a red card. But our problem was that the goals from Gonzalo Higuain and Jose Callejon came very late for us."
The Gunners have lost only five times across the board this season, but their failure to beat Napoli during the week could prove costly for the side as they finished second in their group.
Wenger's men are now faced with the prospect of drawing the likes of Real Madrid, Paris St-Germain, Bayern Munich, Atletico Madrid or Barcelona in the next round.
Any of these clubs will pose a particularly tough challenge for Arsenal but Wenger has insisted they are prepared for any side, having defeated both Champions League finalists Bayern Munich and Borussia Dortmund away this year.