Arsenal: Raheem Sterling is a better player than Mesut Ozil remarks Michael Owen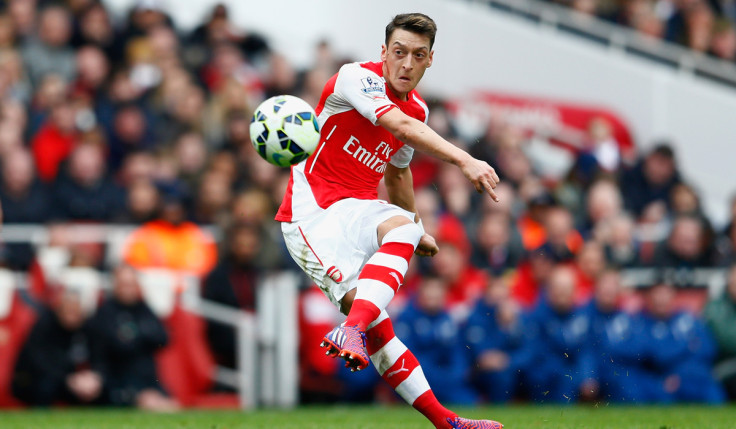 Michael Owen has reiterated his belief that Raheem Sterling is a better player than Mesut Ozil, having been previously criticised for his words comparing the duo.
The German made two assists in Arsenal's 2-1 win over Reading in the semi-finals of the FA cup and was among the Gunners' best players alongside Alexis Sanchez, who benefited from both his contributions.
In contrast, Sterling failed to lead his Liverpool side to the final, as they crashed out to Aston Villa in what was a deplorable performance by the Reds on all accounts.
Ozil's first assist, saw him carve the ball through a barrage of nine Reading players, which was brought down brilliantly by Sanchez and slotted through Adam Federici's outstretched legs. His second was a little less elaborate and mostly down to an error by the Reading goalkeeper, something which Owen touched upon in his analysis.
The midfielder has been in brilliant form since coming back from injury and has been pulling the strings for the Gunners as they made it to their second FA Cup final in consecutive years. Arsenal are also on an eight-match winning run in the league and shall face Chelsea at the Emirates on 26 April in a bid to keep their title hopes alive.
When asked if he still considers Sterling a better player than Ozil, Owen said, "Definitely, I think so. Alexis Sanchez's second goal will go down as an Ozil assist but it was all to do with Sanchez and the mistake.
"I think Ozil is a very good player but it's ironic, we were talking about a crisis at Arsenal only a few months ago and they were struggling around fourth or fifth saying 'are they going to get into the top 4?' knocked out the Champions League, hanging on in the FA Cup.
"All of a sudden it looks like they are going to win the FA Cup now, looks like they are going to come second in the league and it will be a decent season for Arsenal, a very good season for Arsenal. It's amazing how the game can change in the space of a month or so," he concluded.
© Copyright IBTimes 2023. All rights reserved.