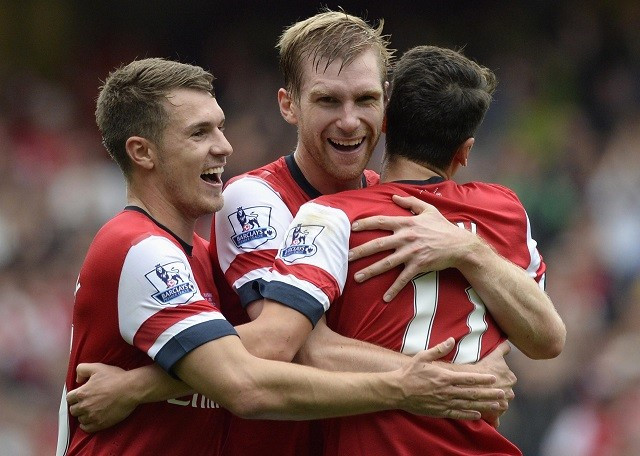 Arsenal have been handed a major boost ahead of a crucial period in the season, with Aaron Ramsey and Mesut Ozil set to return to training imminently, according to the Daily Mail.
Ramsey has been missing from the Arsenal line-up for more than three months with a thigh injury but is expected to return to full training by the end of this week.
The Welshman has been the standout player for the Gunners this season. He was their second highest scorer in the league with eight goals and also provided much needed energy in midfield which the north London club have sorely missed since December.
Ramsey is expected to make the semi-final with Wigan with their clash against Everton in the weekend expected to come too early for the 23-year-old. His presence will give a major midfield boost to the Gunners, who are without the services of Abou Diaby and Jack Wilshere.
Meanwhile, Ozil, who has been criticised for his performance in his first season in the Premier League, is also set to return for Arsenal's trip to Hull on 19 April.
The former Real Madrid man is recovering from a grade II hamstring pull and is expected to return to training next week. Though he is unlikely to feature against Wigan in the Cup, alongside Ramsey, he should be able to help Arsenal end their season on a high.
The Gunners have missed the services of their prized duo and with injuries hitting them at a crucial time in the title race, the Gunners have fizzled away, taking only two points from a possible nine and trail Liverpool by seven points at the top.
The run of results mean that Arsenal have to keep an eye on the teams behind them in the race, with Everton closing in fast.
The Gunners travel to the Goodison on Sunday where a loss will be fatal to their hopes of qualifying for the top four.