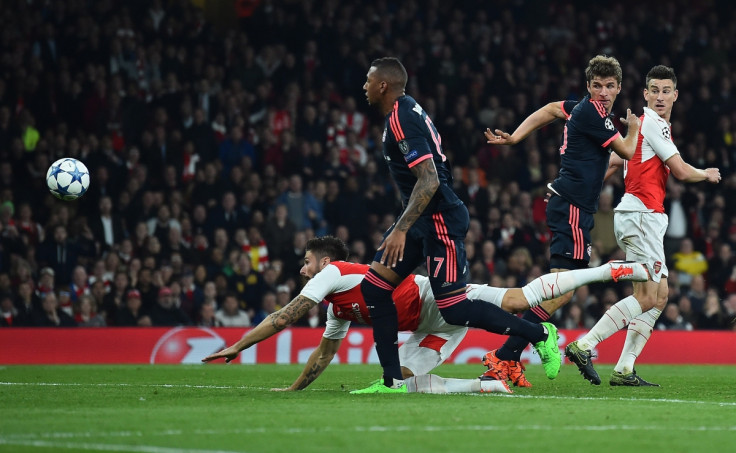 Rio Ferdinand believes Arsene Wenger played a masterstroke by bringing on Olivier Giroud in the final quarter of the game as the Bayern Munich defence were found wanting against his physical presence. This ultimately led to the goal which won Arsenal three crucial points in their quest for qualification out of the group stages. The Gunners rode on the back of goals by Giroud and Mesut Ozil to pull off a major upset over Bayern, who had the lion's share of the possession.
The Gunners, like they have done this season, persisted with Theo Walcott through the middle, who harried the Bayern defence and should have scored but for Manuel Neuer's brilliant save in the first half. His movement forced the Bayern defenders to drop deep and open up a tangible gap between themselves and the midfield, which boasts of some of the best passers in the game in Thiago Alcantara and Xabi Alonso.
However, Giroud's style was in complete contrast to what the Germans were used to for the major part of the game. He proved crucial in the backline as he held up the ball, linked up play and refused to allow any room to the Bayern defence to get themselves involved in a contest. His physical approach was rewarded as the Bavarians failed to clear a Santi Cazorla free-kick which was bundled in by Giroud and set the tone for three crucial points for the Gunners.
Ferdinand, who has been a regular participant against Arsenal with Manchester United, believes Wenger should be given a lot of credit for making the best possible changes during crucial moments in the game.
"A great thing about the result is Theo Walcott had a couple of half-chances to try to really stretch the Bayern defence," Ferdinand told BT Sport, as quoted by the Mirror. "Then for Arsene Wenger to be able to bring on someone [Giroud] with such contrasting style is such a great asset to have.
"As a defender you play against pace, pace, pace all game and them someone comes on and he wants the ball in and wants to be physical and you have to change your game quickly as a defender. If you are not on it, you can find that difficult. I don't think Bayern were ready for that type of player to come on, they were all geared up to play against pace."