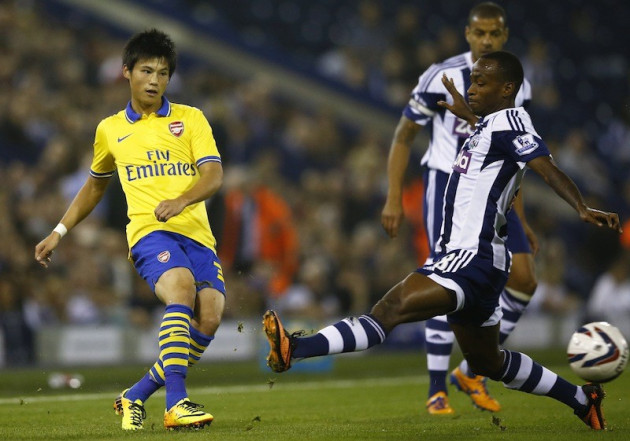 Arsenal youngster Ryo Miyaichi insists he is unaware of comparisons to Lionel Messi though the Japan international admits he hopes to be mentioned in the same breath as the Barcelona superstar one day.
After spending three loan spells away from the Gunners since signing with the club in 2011 Miyaichi is back with the club permanently this season and has already received four chances to impress Arsene Wenger.
He was handed a rare start from Wenger in the side's Capital One Cup penalty shout-out win over West Brom last night and some have compared the 20 year old to Messi for his passing skills and quick feet.
But Miyaichi claims he is not yet anywhere near the Argentine's skills though one day he hopes to get close.
"To be honest I didn't realise that! Messi is unbelievable, I am not at his level! I want to be closer some day," he said in a q&a with Arsenal's fans.
On his goals for the season ahead the winger said: "My target is to get some opportunities to play and if I do I want to take it.
"I need to improve more when I haven't got the ball, my defensive work. That is really important."
Miyaichi also lauded the qualities of fellow Arsenal attacker Theo Walcott, who is currently out of action due to injury, saying he is the fasted player the Okazaki-born man has ever seen.
"The fastest player is Theo, he is so quick," he quipped. "Maybe the quickest in the world."
Miyaichi will certainly have multiple chances to impress Wenger this season as the club look to a busy schedule in the coming months. But when asked what his highlight at the club so far was, he chose last night's victory over West Brom which went to penalties as a memory he won't quickly forget.
He said: "My favourite game was last night against West Brom! The penalties were dramatic, it was amazing."