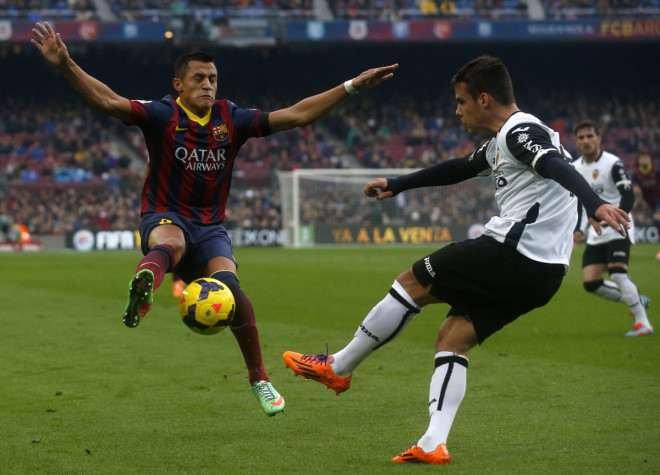 Arsenal are preparing a move for Barcelona winger Alexis Sanchez in the summer, according to the Sunday People.
The player is expected to be available for a fee in the range of £20m and will be a good addition to a side which has a history of struggling with injuries. However, they will face a major fight with Juventus for the Chilean, who is acquainted with the Serie A from his time with Udinese.
The 25-year-old will fit seamlessly into Arsenal's squad and will increase their potency up front, which has been starkly lacking this season.
Sanchez has failed to nail a starting place for himself at the Nou Camp and is prepared to make a move in the summer for more first team opportunities. A good performance at the World Cup later this year will increase his valuation and will make him a coveted target for other clubs who are monitoring the situation.
Juventus are hoping that the presence of compatriot Arturo Vidal will play a part in Sanchez's decision when choosing his destination. However, a move to the Premier League is also an enticing prospect, giving the South American plenty to think about before the summer transfer window comes to a close.
Meanwhile, Aaron Ramsey is hoping to exorcise his FA Cup ghosts as the Gunners take on Hull City in the finals next Sunday at Wembley. The Welshman had to experience disappointment with Cardiff City in 2008, when the Welsh club lost the final to Portsmouth and the 23-year-old is willing to make sure that the same does not happen again.
"I have had a disappointment at Wembley in a final before with Cardiff and hopefully this time it will be different," Ramsey said.
"It is really exciting for us, and it is where we want to be, competing to win silverware and we have a big opportunity to do that.
"Hardly anyone of us in the dressing room has won anything, so hopefully it would drive us on.
"We have people here who are hungry to win and we are still a really young team and were top of the league right up until February.
"We are close, maybe we just need to win one thing to go on and be successful for five or 10 years," he concluded.