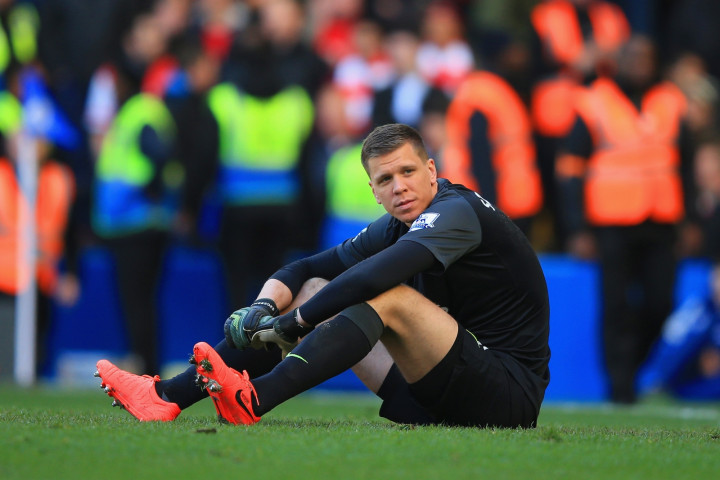 Arsenal goalkeeper Wojciech Szczesny has welcomed the challenge from summer signing David Ospina for the number one spot in the Gunners' starting lineup.
Arsene Wenger was looking to add another shot-stopper to his roster following the departure of Lukasz Fabianski to Swansea City. The North London club snapped up the Colombian international from Ligue 1 outfit Nice for a reported £3m fee and he signed a five-year contract.
The 25-year-old had been in stellar form for Jose Pekerman's side at the World Cup in Brazil. Ospina will be wearing the number 13 at the Emirates and will be hoping to relegate Szczesny to the bench.
But the Polish international is unfazed by the challenge from his South American counterpart.
"I love a challenge, I was expecting someone to come because Lukasz has left for Swansea and I wish him all the best. I knew someone would come in," Szczesny told Arsenal's official website.
"I'm just going to do the same thing over again, I'm going to try my best in every game and every week in training. Hopefully that will be enough."
Arsenal will begin their campaign this Sunday as they face Manchester City for the Community Shield at the Wembley Stadium. They have failed to win the Emirates Cup for the third time in a row and Szczesny is hopeful that Wenger's side will fight for the Premier League title.
"It would have been nice to win a cup that we play at home, but that's not what we talk about in pre-season. We want to prepare and make sure we are at our very best at the weekend [in the Community Shield] and then against Crystal Palace in [the Premier League]," the 24-year-old added.
"Last year we had a long pre-season and we played a lot of games in Asia. This year is completely different but I think everyone is looking sharper every single day."
"We were close to being right near the top last year in the Premier League and we managed to win the FA Cup."
"This year we added some players and we're looking stronger. The confidence is flying high and hopefully this year we can challenge for the Premier League," he concluded.