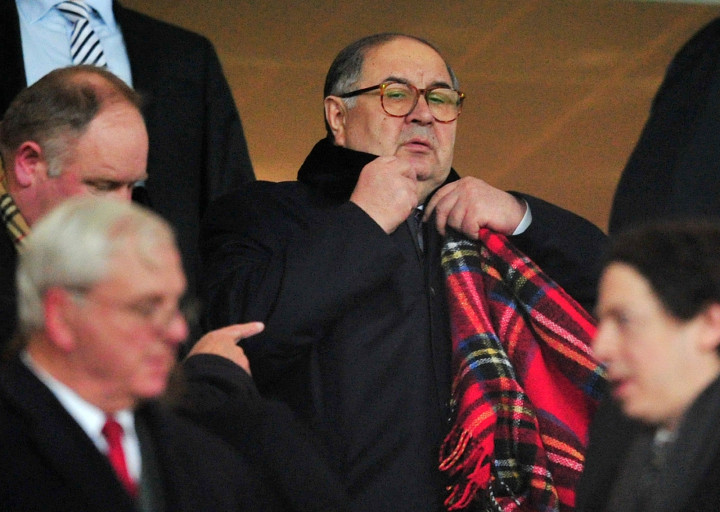 Arsenal shareholder Alisher Usmanov has provided an insight into the divide in the club's ownership after revealing he is still to meet with majority shareholder Stan Kroenke.
Usmanov, who owns a 30% stake in the Gunners, does not sit on the club's board and prefers to leave day-to-day operations to the American businessman and chief-executive Ivan Gazidis.
The Russian billionaire has previously openly criticised the running of the club, particularly during Arsenal's nine-year trophy drought during which time they moved to the Emirates Stadium and sold the likes of Cesc Fabregas and Robin van Persie to help manage the debt.
"I have not had any contact with Mr Kroenke," the 60-year-old told The Daily Telegraph. "Those who control the club run the club. Mr Kroenke's group controls the club and they control the day-to-day management.
"I hold a 30% stake in Arsenal and therefore the board's success is shareholders' success. I have no plans to exit. I wish Arsenal success and hope that they win trophies."
The end of Arsenal's years of austerity was signalled last season with the signing of Mesut Ozil for a club record fee and the winning of the FA Cup. Alexis Sanchez has since joined from Barcelona this summer in one of four new additions this summer.
Arsene Wenger's team are now genuine title contenders this season after watching their league championship hopes fall by the wayside during the closing months of the last campaign.
However, Usmanov - whose total worth is more than that of Chelsea's Russian owner Roman Abramovich - says had he been in charge during Arsenal's fallow years he would have managed the club more effectively.
"I think that Arsenal's planning was based on acquiring the new stadium, a decision taken by the previous owners," Usmanov added.
"The acquisition was financed with debt, which would be repaid through match-day revenues among other sources. There is another way of doing it: when shareholders buy all of the assets and contribute them to the club.
"As a result, these debt-free assets may generate income for the club. It is always up to the shareholders to choose which model to adopt.
"The board and main shareholders chose the debt option at the time, which led to Arsenal going almost 10 years without winning a domestic title or the Champions League.
"The first trophy only arrived in the 10th year. As a result of this choice, they were selling players and were unable to buy top players.
"These difficulties have now been overcome and the team is in a good state, the club's finances are in order and I believe that Arséne Wenger and the club's CEO [Ivan Gazidis] will manage them correctly."